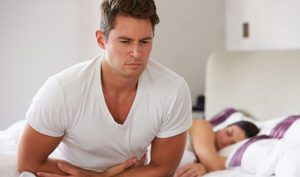 Until recently, there have been few options for men with Peyronie's disease. You may be wondering what exactly Peyronie's disease is; it is defined as relating to symptoms of plaque build up in the penis, which causes a significant curvature of the penis. The plaque accumulation in Peyronie's can cause a build-up of scar tissue in the penis that creates a bend in the erected penis. This disorder typically causes a great deal of pain during intercourse. Most men are too embarrassed to seek medical attention or don't completely understand their disorder and the treatment options.
Peyronie's disease is not erectile dysfunction, although they are often grouped together by some inexperienced practitioners. Peyronie's is thought to be triggered by genetic factors or other health disorders. It is self-limiting in 80% of patients and may resolve in 1 year. Therefore treatment is conservative for 1 year from the time of the onset. After 1 year than more aggressive treatments can be used.
Treat the Root Cause of Peyronies Dysfunctions
Fortunately, there is now an easy in-office procedure that is offered at Gulf Coast Urology. This advanced treatment is called, Xiaflex. XIAFLEX® (collagenase clostridium histolyticum) is a prescription medicine used to treat adult men with Peyronie's disease who have a "plaque" that can be felt and a curve in their penis greater than 30 degrees when treatment is started.
What should I expect from treatment with XIAFLEX®?
XIAFLEX® should be injected into the plaque by an HCP who is trained and experienced in treating adult men with Peyronie's disease. XIAFLEX® is injected directly into the plaque that is causing your erect penis to curve.
• XIAFLEX® may be given in up to 4 treatment cycles over the course of 24 weeks
• In each treatment cycle, you will receive 2 injections of XIAFLEX® on separate days, 1 to 3 days apart
• Do not have sex or any other sexual activity between the first and second injections of a treatment cycle
• 1 to 3 days after the second injection of XIAFLEX®, you will need to return to your HCP's office for a manual procedure that will stretch and help straighten your penis. Your HCP will tell you exactly when to come back for this
• In addition, you will perform at-home stretching and straightening activities on your penis for approximately 6 weeks after the manual procedure. See A key part of your overall treatment plan with XIAFLEX®
• Do not have sex or have any other sexual activity for at least 2 weeks after the second injection of a treatment cycle with XIAFLEX® and after any pain and swelling has gone away
Your HCP will determine how many treatment cycles are appropriate. After each injection, your penis may be wrapped with a bandage. Your HCP will tell you when to take the bandage off. (1)
Gulf Coast Urology – A Division of 21st
Century Oncology
Gulf Coast Urology is a fully integrated, breakthrough urological care facility. Their patients are able to visit their neighborhood physician and also obtain streamlined access to pathology, laboratory, radiation and imaging services. By having these services readily available, Gulf Coast Urology can more effectively manage their patient's health care as a whole, while ensuring they receive the highest standard of quality. Their board-certified physicians and clinical staff are experts in the latest advances in urological care and are leaders in bringing new technology and treatment options to the community.
Gulf Coast Urology treats all urologic diseases and conditions, including, Peyronie's disease, enlargement of the prostate causing lower urinary tract symptoms, prostate cancer screenings and treatments, urinary incontinence, changes in voiding habits, overactive bladder, painful urination, excessive nighttime urination disrupting sleep cycle, urinary tract infections, blood in the urine, elevated PSA, kidney and bladder stones, sexual dysfunction including impotence, vasectomy and cancers of the kidney, bladder, ureter, testicles and more.
About ANDREW K. WEITZEL, D.O., FACOS
Dr. Weitzel received his degree from Michigan State University College of Osteopathic Medicine, completed his internship and general surgery residency in Michigan and his Urology residency at University of Medicine & Dentistry of New Jersey. He is board certified and a fellow of the American College of Osteopathic Surgeons. Dr. Weitzel has been proudly practicing in Port Charlotte, Florida since 2006.
Dr. Weitzel is affiliated with multiple hospitals in the area, including Fawcett Hospital, Englewood Hospital, and Bayfront Health Park (Port Charlotte and Punta Gorda). He is also affiliated with Gulf Point Surgery Center.
Dr. Weitzel's areas of special interest are urologic oncology, kidney stone disease, prostatic hypertrophy, voiding dysfunction and urinary incontinence.
Dr. Weitzel has been chosen for the Choice Awards yearly since 2009. He sees patients at both Port Charlotte and Englewood offices.
GULF COAST UROLOGY
21260 Olean Boulevard
Suite 202A
Port Charlotte FL 33952
941-625-1550
www.gcurology21c.com
References:
1. "Getting Treated." XIaflex Peyronie's Disease, Endo Pharmaceuticals, 2018, www.XIAFLEX.com