By Martin Maag, MD
Hair thinning and baldness is inevitable for the vast majority of men and a good percentage of women. In recent articles I have mentioned that wigs, hats, combovers and topicals have been used to cover up the loss of a persons hair. As psychologically and emotionally devastating as this can be, science has progressed and we now have several options can help slow the progression of hair loss, as well as transplant healthy hair into areas of thinning and balding to improve one's appearance.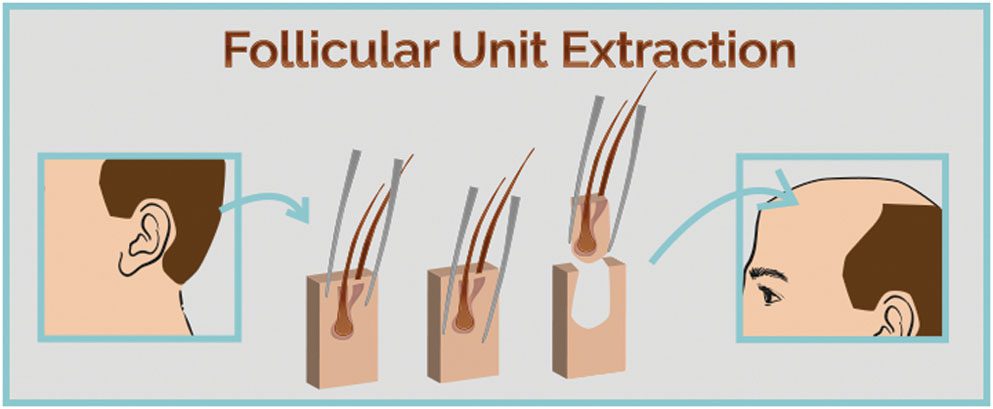 In this article I will be focusing on the hair transplant. Specifically what is called FUE or Follicular Unit Extraction. Prior to the development of FUE, there was the "plug method" which was exactly as it sounds. Round plugs were removed from areas where there was hair and placed in the front of the head. Over time this left a person with what we call "doll's hair". Then the "Strip" method evolved, where a large strip of hair was cut from the back of the head, and individual hair follicles were separated from that strip and placed into a person's scalp. This unfortunately left a person with a linear scar in the back of the head, and at times numbness of the scalp from nerve injury. With today's hair styles, that scar is easily visible and unsightly to those that have it.
What is an FUE hair transplant? FUE is an advanced, minimally invasive hair transplant method which allows for the harvesting of individual follicles from the back of the head (donor area) without the use of a scalpel or stitches and therefore leaves no scar. Those follicles are then methodically and meticulously placed into the front of the scalp, giving you a natural looking hairline. Individual follicles are also placed in selected areas to increase fullness. The method of placement is determined prior to the beginning of the procedure to assist with the patient's expectations.
Other advantages to the FUE include faster healing and more comfort compared to the "Strip" method. Remember, the "Strip" method is where a physician uses a scalpel to remove a large strip of scalp and then stitches the scalp back together leaving you with a linear scar. The minimally invasive FUE technique, allows a person to return to work in a couple days and once healing is complete, there is the option of wearing a short haircut and not worrying about the appearance of the scar.
Follicular Unit Extraction is the only technique used at HHR. It is the most effective way of transplanting hair that gives a person a natural looking hair line, with no linear scar. Our technique has been scientifically researched to assure excellent graft survival, giving you, your hair back. We are dedicated to providing the absolute best treatment options for thinning and balding men and women. We want to be your only choice when it comes to making the move to improve your hair. I am your doctor from start to finish. Don't you think it is time to begin the journey to a new you?
Honest Hair Restoration of Lakewood Ranch. We have done the research so you can enjoy the outcome.
To find out more, please go to, www.HonesthairRestoration.com and set up a free medical doctor consultation. At HHR I will be your doctor from start to finish. Begin the journey to a new you today.
Call Martin Maag, MD at 941.739.9001 and Schedule a No Cost Consulation Today!
HonestHairRestoration.com
5860 Ranch Lake Blvd, Suite 110
Lakewood Ranch, FL 34202