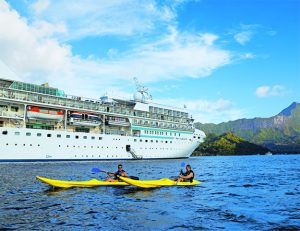 Karen Berger, a Travel Specialist with Preferred Travel of Naples recently experienced the tranquil beauty and relaxing atmosphere of French Polynesia on a seven day Paul Gauguin cruise (PG Cruises). This area is well known for its picturesque overwater bungalows. However, aboard the ship, you will experience an overwater bungalow in its own right, as you lavishly float along the water. Travelers that are not on a cruise ship must fly to each island, or take a catamaran (ferry) to be able to experience the area. On PG Cruises you'll have the ability to get to each island effortlessly, due to it's smaller size and well-planned itinerary.
The ship itself is an intimate luxuriously proficient way to travel, with just 332 guests on board and well-equipped staff that are experts in all things related to the environment and culture of the Tahitian area. Passengers can enjoy all of the accommodations expected on a larger cruise line, with a more personal experience. From the spa, to yoga and Polynesian Zumba (slow motion) on the deck at sunrise, to an array of onboard hosts from environmental conservationists to exotic chefs and photographers, PG Cruises has thought of it all.
The Islands Visited
• Papeete on Tahiti
• Hauhine
• Taha'a
• Bora Bora
• Moorea
• Tahiti
You are able to immerse yourself in the islands due to the rare multi-day layovers that PG cruises offers. And with the complimentary watersports marina, which is a platform off of the back of the ship, guests can enjoy snorkeling, windsurfing, paddle boarding and kayaking to name a few of the daily activities available. The ship also accommodates those who would like to experience staying in an authentic overwater bungalow and has those opportunities available at your discretion.
Karen explained the details of her trip with us, "When we arrived in Huahine, which is a beautiful island with a small town, we were able to walk to the beach. I snorkeled there and saw the most amazing sea life and unique fish. They actually had world-class outrigger races going on when we were there, so it was another amazing adventure as camera crews captured the canoes competing in a world championship."
Not leaving any details unturned, the ship has a program for children, which teaches them how to be good stewards of nature. Along with onboard hosts, PG Cruises offers a nightly cultural experience with onboard locals from each island that teach dance, local crafting, and traditional sessions adept in French Polynesian ways.
Karen was then off to Taha'a where the ship hosted a private party on an offshore oasis, Motu Mahana, Paul Gauguin Cruises' private South Seas island. They had a barbeque for their guests and a swim-up bar. Fresh coconuts were cracked for their drinking water, or for mixing and enjoying a refreshing cocktail. Fresh local lobster, fish, vegetables, and fruit were flowing, as guests lounged around the beach snorkeling and enjoying the peaceful beauty.
The next day, the ship arrived in Bora Bora. With white sand beaches and pristine waters for snorkeling, Karen took an excursion on a small boat that allowed her to swim in deep waters with baby blacktip sharks and lemon sharks. After the swim, they headed to shallow waters and swam with the stingrays that were up to 5 feet in diameter. These beautiful creatures, gently fed right out of their hands, and Karen said the entire experience was awe-inspiring. The following day, Karen went on a pristine coral garden excursion, which allowed her to see the gorgeous reef and abundant fish up close.
That evening Karen enjoyed views of the sunset from her private balcony, before heading down to listen to the lecture of the evening given by one of the environment conservationists from National Geographic, Mark Eddowes. Lecturers like Mark are onboard every evening to recap the day's adventures and to teach about their specific area of expertise, which can be marine photography, chef-inspired cooking techniques, and an array of additional topics.
Mark Eddowes, Onboard Lecturer
For nine years, Mark Eddowes has captivated guests of the m/s Paul Gauguin with fascinating tales of French Polynesia's storied past, sharing his wealth of knowledge through lectures that that range from "The Cult of the Tiki" and "The Ancient Culture of the Marquesas Islands" to the real story of the Mutiny on the Bounty.
Today, Mark is an acknowledged authority and researcher in the field of Polynesian anthropology, having been honored in 2006 with the title of National Geographic expert in the archeology of French Polynesia and the Cook Islands. He has also been invited to head an archaeological research committee charged with classifying the historical temple site of Taputapuatea on Raiatea island as a UNESCO World Heritage Site. And he is currently working with UNESCO to class the marae (temples) of the Cook Islands— including those of Aitutaki, where he is currently directing a research project—as similar heritage sites. (1)
Mark gave several impressive lectures onboard and Karen was especially interested in the biorock reef preservation that is underway in the islands of French Polynesia. Mark explained that the biorock method assists coral reefs, and other marine ecosystems to thrive and mend from degeneration caused by climate change, and physical destruction through a process that aids against warm waters, pollution, and other marine stressors. Biorock is, able to rebuild, regenerate growth and resists resist against destruction on its own. The reefs are growing back rapidly with this innovative material.
Karen said, "Everything on the ship is elegant, but country club casual, so you can comfortably enjoy yourself in the midst of sophistication. And the unmatched beauty of the islands in French Polynesia is indescribable. It's the trip of a lifetime."
Early the next morning, they arrived in Moorea. At this point, Karen is adept in the local greeting, ia ora na, which means hello in Tahitian. After addressing the locals in response to their friendly, kind salutations, she was eagerly whisked away to a gorgeous sanctuary for snorkeling. Karen told me that she has been to some of the most beautiful places in the world, but has never experienced such exotic fish as those in Moorea. With the plentiful sea creatures in such a pristine natural environment, she stated this was the best snorkeling experience of all time.
Preferred Travel of Naples
If you'd like to learn more about your opportunity to visit French Polynesia or anywhere in the world, Preferred Travel of Naples is the best place to start. With the highly traveled and experienced staff to guide you, rest assured that you will be in the best hands.
To find out more about Paul Gauguin Cruises, Tahiti, or other fascinating destinations, please contact Preferred Travel of Naples at 239-261-1177 or visit preferrednaples.com.
(1). "m/s Paul Gauguin Cruises, Onboard Experts." Paul Gauguin Cruises, 2017
https://www.pgcruises.com/ms-paul-gauguin/experts/1427