By Matthew Solomon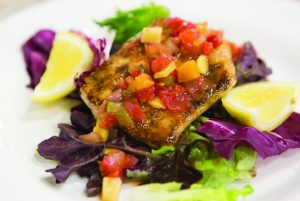 Imagine for a moment, you are sitting in a café in a small coastal town off the coast of Greece. Everything seems perfect, the breeze of the Mediterranean, the sounds of music in the background and the smells of an impeccably prepared lunch waft around you. In that moment everything just seems, beautiful. But have you ever wondered why a daydream like that is so effective? Ever wondered why people came back from time in the Mediterranean alert, active, and more determined than ever? Well some researchers believe it could all come down to food!
In the past 5 years a new nutrition trend has taken the country by storm. Focusing on foods that are high in protein, calcium, and omega-3 fatty acids, the Mediterranean Diet has become increasingly popular in the world of health and fitness. At its core the diet is designed to focus on bright colors and flavors usually found fruits, vegetables, and fresh fish. Focusing on freshness is what makes the diet so special bringing the added benefits of consuming more organic and properly sourced ingredients.
But what are the benefits? Well according to some studies, individuals of all ages who take part of in the Mediterranean Diet have found significant weight loss, improvements in mood and energy levels, and an overall quality of life improvement.
The big question though, is why is Aviva – A Campus for Senior Life, interested in the Mediterranean Diet? What does it have to do with Florida's senior population? Well, if the research behind the diet is true then it could be life-changing for individuals 55 and older.
According to a comprehensive study completed in France in conjunction with the United States National Institutes of Health, the Mediterranean Diet could have longstanding and far reaching effects on senior populations. The study examined several groups of seniors both in France and the US who had reported either significant physical decline or a decline in cognitive function. Symptoms like forgetfulness, stiffness, loss of balance, and an inability to focus were common. These seniors were then prescribed a strict diet based on the core idea of the Mediterranean Diet. The results were astonishing!
Participants reported a dramatic increase in cognitive function including a sense of alertness that kept them encouraged and active throughout the day. Additionally those participants with physical difficulties including severe osteoporosis and arthritis found their ability to move smoother and less cumbersome. Even the participant's risk of falling was seen to decline over the short period of time. In terms of long-term effects the participants were tested over a period of 4 years and were found to have significantly slow the rate of cognitive decline and risk of developing Alzheimer's and other Dementia based diseases.
So how can a Senior Living facility like Aviva, mirror these results? Announced in February the facility has developed a comprehensive Mediterranean Diet program in conjunction with the Center for Brain Health in Sarasota. The voluntary program will create a personalized version of the diet for each individual resident living on Aviva's 27-acre campus including those in Anchin Assisted Living and Memory Care. Combined with CBH's brain health strategies and Aviva's outstanding cognitive programming relationships including Dakim Brain Fitness, Music & Memory, and Eldergrow the program will closely monitor resident's cognitive health in hopes of improving function and quality of life.
As we celebrate National Nutrition Month, now is the perfect time to reexamine your own approach to
a healthy diet. Programs like the Mediterranean Diet, are perfect for participants of all ages as they are easy to follow and can keep costs down in comparison to other commercially available diets. One of the biggest advantages that Aviva has already seen in implementing the new diet can apply to every individual and every family. Unlike other diets, the Mediterranean Diet can be slowly introduced into your daily life. Each day a current food item can easily be replaced with something bright, fresh, and beautiful. After a few weeks you will find that every meal has become the perfect getaway for your taste buds, your mind, and your body!
Aviva- A Campus for Senior Life is more than just a community, it is a lifestyle. As Sarasota's premier senior rental community we want to invite you to experience the possibilities! Visit avivaseniorlife.org or call 941-225-8369 to schedule a tour.
1951 N. Honore Ave. | Sarasota, FL 34235
941.225.8369 | AvivaSeniorLife.org