By Lisa Joslin, Bariatric Care Coordinator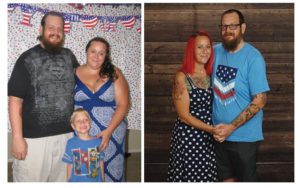 Maggie and Jason LeGrange are the kind of couple people call "lovebirds." While parenting Maggie's son from a previous marriage, the two were eager to add to their family. When it didn't happen, they tried fertility drugs. After a miscarriage, the Bradenton couple gave up on the dream.
Both Maggie and Jason were morbidly obese. In Maggie's case, obesity affected her hormonal balance causing a condition that can prevent conception and cause difficulties in carrying a fetus to term. Even more, she was concerned that her weight problem would cause her to die young from heart disease or stroke, as other family members had, leaving her son and Jason to cope without her.
"Had I kept going down the track I was on, I would have had a heart attack," Maggie said, her voice choked with emotion. "My dad was obese and died at 37 with a heart attack. My grandmother and uncle died of heart attacks. It had always been a fear of mine."
"I'd gone to gyms and hired personal trainers," said Jason, 37. "I had been heavy set since I was really little, and nothing worked for me. My father is a diabetic. Strokes and heart conditions run in the family. When I was 20 or 21, I had chest pain and the cardiologist told me I shouldn't have kids because I'd be dead by 30 the way I was going."
Maggie, 33, had co-workers who saw positive results from metabolic/bariatric surgery, so the LeGranges consulted with Joseph Chebli, M.D., a Center of Excellence metabolic and bariatric surgeon at Venice Metabolic and Bariatric Surgery. Dr. Chebli has performed thousands of life-changing metabolic and bariatric procedures and advocates for patients as chair-elect of the State of Florida Diabetes Advisory Council.
A number of surgical alternatives can help a person lose weight and even resolve conditions such as infertility, Type 2 diabetes, non-alcoholic fatty liver disease and sleep apnea associated with obesity. Dr. Chebli's team performs metabolic/bariatric procedures at Venice Regional Bayfront Health, which is accredited as a Center of Excellence in metabolic and bariatric surgery from the Metabolic and Bariatric Surgery Accreditation and Quality Improvement Program.
"Often after this surgery, obese patients see their conditions improve dramatically, even before substantial weight loss occurs," Dr. Chebli said. "Type 2 diabetes patients may no longer need insulin or medication. Nonalcoholic fatty-liver disease can be halted or even reversed. Blood pressure medications can be reduced or even eliminated. And for women, it can resolve problems with conceiving and carrying a baby to term. It really is life-changing."
Through an extensive work up, Dr. Chebli discovered that Maggie had borderline type 2 diabetes, non-alcoholic fatty liver disease, sleep apnea and polycystic ovarian syndrome (PCOS), the most common cause of anovulatory infertility in the United States. Jason had non-alcoholic fatty liver disease, sleep apnea, reflux disease and asthma.
Maggie had her surgery in August 2015, then Jason followed in 2016.
By September 2016, Maggie was pregnant and carried the baby to term. Another successful pregnancy quickly followed, and the couple is considering having another child. ("Maggie doesn't like odd numbers," Jason said with a laugh.)
At her heaviest, Maggie weighed 344 pounds. This fall, she weighed 162. Jason went from 320 pounds to 210. Their other obesity-related conditions have resolved, and they no longer have to use forced-air machines to prevent sleep apnea.
"After the surgery, I all of a sudden started losing weight and lost over 100 pounds. Some of my joints feel better," Jason said.
"Dr. Chebli saved my life," Maggie said. "I tell people the surgery is the best decision I ever made."
Metabolic/bariatric surgery changes the way the body digests food and takes up nutrients so maintaining a healthy weight requires lifelong behavioral and nutritional changes, Dr. Chebli said. Although applying self-discipline on food choices is still a challenge, Maggie says it's worth it, and they are trying to set good examples for their children and train them in proper food choices.
"We started playing Pokemon Go with our 10-year-old to get out walking," Maggie said. "Before the surgery, I could step outside and be covered in sweat. That doesn't happen anymore. It's nice to go out and do things. Now I climb stairs every day without getting out of breath. There are lots of benefits to the weight loss, but the biggest benefits are my two beautiful babies I thought we'd never have."
For more information about approaches to achieving a healthy weight, please visit findahealthyweight.com/venice-regional or call 941-483-7579.
Venice Regional Bayfront Health
Call 941.483.7579 or visit
findahealthyweight.com/venice-regional