By Matthew Solomon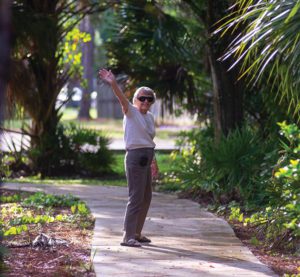 Across the country health providers have been steadily incorporating the concept of a holistic lifestyle into their care. It seems everywhere we turn as consumers we are encouraged to pursue this concept of holistic living. But, what does holistic living really mean and how can you introduce such an unusual concept to the population of American seniors?
The challenge to introduce holistic living, or more commonly understood as care that targets all aspects of a person's life beyond the physical, has become a major goal for the American senior care industry. Geriatric specialists, senior living facilities and health aids have all worked to change their definition of care. Despite the research which points to the long-term benefits of holistic living, many consumers especially those within the 75 years or older age bracket still have doubts. Pushing forward change while assuaging doubts have led many organizations to get creative on how to introduce this new approach to care.
Innovation was the goal when Aviva – A Campus for Senior Life introduced their holistic approach to health in 2014. Their unique program, Aviva4Life, works to engage the four pillars of resident health; mind, body, spirit and social wellbeing. Combining the technical skills of their wellness and therapy departments with the dynamic excitement and creativity of their Life Enrichment department, Aviva's Aviva4Life program works to offer specialized programming to residents included in their daily calendar. By creating an environment with an abundance of health resources and easily accessible industry experts, Aviva has created a way for every resident to maximize their potential for well-being.
Aviva4Life's success comes in two major aspects within a resident's daily life. First is programming. By capitalizing on the talented and top-level staff at Aviva, the community has developed one of the most unique and dynamic activities' calendars in the area. Utilizing the core ideas of Aviva4Life the Aviva activities calendar offers options for residents which target every aspect of their well-being.
On an average day a resident can start their morning with a balance class in the wellness center, enjoy a lecture from a local historian before lunch, and end the night with a gourmet heart-healthy meal before enjoying a live performance by a local classical musician. While residents are free to enjoy these activities they often fail to realize that by doing so they are seeing to their own well-being. All they have to worry about is doing the things they love to do and Aviva's staff work behind the scenes to ensure that every aspect of campus works to improving the health of those who live there. That commitment extends far beyond an activities calendar but includes the work of Aviva's classically trained Executive Chef, a dedicated full-time nurse, a geriatric fitness specialist, a on-site chaplain and staff of all departments fully trained in customer service and resident care.
The second major aspect of Aviva4Life is one that happens behind the scenes thanks to the tireless work of Aviva's staff. When Aviva launched their Aviva4Life program they created a staff network of communication which works to monitor the health and well-being of residents in a non-intrusive manner. As leaders in the healthcare industry, the Aviva4Life network of staff work around the clock to pull research and innovative techniques into the Aviva community to improve the health of their residents. Past initiatives have included a multi-
disciplinary brain health campaign which included new programming, partnerships with local experts like the Memory Clinic at Sarasota Memorial, and fundraising for one-of-a-kind tools and techniques used to stimulate memory and reverse cognitive aging. By creating this network of Aviva staff the community has found a way to stay on the cutting edge of health related technology and to make new trends in wellness accessible for a population which has trouble embracing these dynamic innovations on their own.
Now almost 4 years later, the Aviva4Life program has continued to evolve and grow working to not only improve the lives at Aviva's Independent Living community but also the Assisted Living and Memory Care communities. Aviva's team has bigger and bigger goals in mind for their proprietary program including its expansion into their Skilled Nursing facility and ongoing education courses for staff of all levels and positions. While Aviva is passionate about the program on campus the staff are also working hard to help surrounding communities create their own unique health networks.
AVIVA
1951 N. Honore Ave. | Sarasota, FL 34235
941.225.8369 | AvivaSeniorLife.org