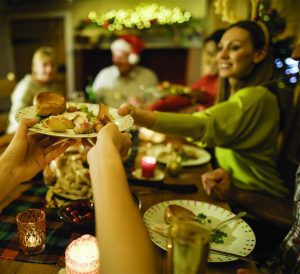 The holiday season is upon us which means lots of traditions, celebrations, office parties and get-togethers. Unfortunately, this is often accompanied by heavy meals, increased alcohol consumption, sweets, and rich foods that can wreak havoc on gut health. You may be thinking to yourself, "So what, it's only for a short time. What harm can that do?" With intestinal health and diet being directly linked, there is good reason to watch your eating habits during the holidays. 1A new study, published in Nature, indicates a big shift can happen incredibly fast—within days of what you eat.
What is gut health and why is it crucial to overall well-being? 2In the intestines, there are 300 to 500 different kinds of bacteria containing nearly 2 million genes that make up the microbiome and help maintain the body's overall health. Dr. Michael E. Cohen, Board Certified in Gastroenterology and Internal Medicine at Physicians Regional Healthcare System states, "The entire body relies on the smooth function of the intestines which serves to absorb nutrients necessary for function of every cell in the body. It also has a robust immune system to help guard against potentially harmful microbes and brings potentially harmful waste products to the liver where they can be detoxified."
Dr. Cohen suggests several ways to avoid damaging your gut health during the holidays:
1. Avoid skipping meals while waiting for the big festive meal as this can lead to overeating.
2. Be cautious with alcohol as it reduces inhibitions that can lead to overeating and poor nutritional choices.
3. Have an eating game plan. People who do their own cooking during the holidays can challenge themselves in making healthier versions of their favorite foods. For example, use recipes with lower fat and sugar than the traditional version.
The holidays are not the only time to pay special attention to what goes into your digestive system. Keeping it healthy is an important aspect of one's well-being and should be taken into account with daily living choices. Dr. Cohen advises patients to learn more about nutrition, and put that knowledge towards making good eating choices. He also often recommends probiotics, getting screened at the appropriate age (50 years old for most people) for colon cancer, and listening to your body. "Trust your instinct. Persistent gastrointestinal symptoms should not be ignored and be brought to the attention of your physician."
When it comes to gut health, Dr. Cohen notes that there are a few common misperceptions among patients.
1. There must be a specific diet that is beneficial for particular conditions. While that is true in some cases such as a patient with celiac disease requiring a strict gluten-free diet, not all gastrointestinal conditions have a well-defined beneficial diet.
2. Low fat is good for you. Just because it is low fat, doesn't mean it's good for you and in some cases can have the opposite effect. Many low fat foods are loaded with sugar.
3. Everyone needs to be on a probiotic. While a probiotic can be beneficial for many, not everyone needs to take one. In fact, there are ways to improve your gut health naturally such as eating fruits, vegetables, legumes and fermented foods such as yogurt, sauerkraut, kimchi, and kefir.
"We are in the early stages of understanding how the gut microbiome can affect our overall health," says Dr. Cohen. "Disorders in the microbiome are now being recognized as potential causes of diseases ranging from Crohn's disease to obesity. It is a very exciting time, and may completely alter the way we look at many diseases."
Dr. Cohen's office locations include:  Physicians Regional – Pine Ridge, 6101 Pine Ridge Rd., Naples, Physicians Regional – Bonita Springs, 24231 Walden Center Dr., Bonita Springs, and Physicians Regional – Pebblebrooke Center, 15215 Collier Blvd., Naples.
For more information or to schedule an appointment, please call (239) 348-4221, or visit PhysiciansRegionalMedicalGroup.com.
1 https://www.nature.com/articles/nature12820
2 https://www.webmd.com/digestive-disorders/what-your-gut-bacteria-say-your-health#1