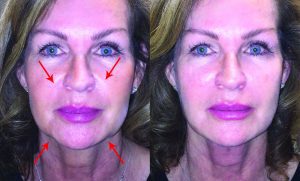 One of the chief complaints of aging is the laxity of skin and volume loss to the face and neck. Through the years there have been multiple advancements in filling the contours of the face and laser therapy to tighten the skin. However, until recently a "new" procedure has been revived from years ago that is at the forefront of the aesthetic specialty.
As an alternative to a facelift back in the early 1990s to mid-2000s, thread lifts where are all the rage. Fast-forward to today, and that procedure, although updated and improved, is back by popular demand.
The new thread lift procedure uses absorbable (dissolvable sutures). And unlike the old process, the threads no longer need to be anchored to the scalp with intricate knotting skills.
How does it work?
The absorbable sutures contain embedded cones that not only lift the skin, but also cause collagen growth by stimulating an inflammatory response under the skin surface in the dermal layers. The procedure is popular due to its long-term results and the fact that it only takes about one hour for the position to perform this treatment method. Due to the stimulation of collagen, the lift last anywhere from 18 months two several years with fillers, also known as the liquid facelift, the results are even more impressive and long-lasting.
The new thread left is able to lift the neck, jawline, lips, cheeks, eyes, and brows all with a natural appearance and rejuvenating factor that continues to build collagen over time.
Many individuals wanting the look of a younger, lifted face are drawn to this new minimally invasive thread lift procedure because there is no scarring, no cutting, and minimal downtime (1 to 2 days of negligible puffiness may occur).
The physician will inject a local anesthetic to make the procedure completely comfortable. A tiny guide needle is used to place the threads under the surface of the skin. The sutures are similar to those used in invasive facelifts, but fully absorbable and removable if necessary.
The results of the new thread lift are extremely natural looking. If you like a youthful, natural appearance, without the surgical aspect, the new thread lift might just be for you.
To get real results, you need experts in the field, that's why the Aesthetic Treatment Centers of Naples are always on the forefront of advanced procedures and technology. Trusting your face to skilled specialists is critical for the best outcome you desire.
To find out more about their procedures and expertise, please call 239-322-3790 for an appointment, or visit them online at atcnaples.com