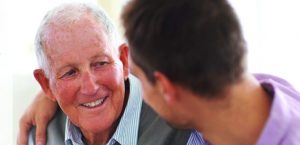 The National Safety Council (NSC) traditionally hosts National Safety Month every June to promote safety throughout the country, and this year's focus is on reducing the leading causes of injury and death in our communities:
• Emergencies
• Wellness (or lack thereof)
• Falls
• Driving
While groups of all ages have opportunities to enhance personal safety in each of these categories, geriatric patients present particular risk. For instance, every second of every day, an American age 65+ falls. Every 20 minutes, an older American dies from a fall. Surveys show that 28.7% of Americans age 65+ fall each year, and the prevalence continues to rise with age.1 Most fall injuries occur in the home (especially in the bathroom and kitchen),2 so it stands to reason that an in-home / community based solution would be well positioned to directly address the challenges faced by the elderly.
Where wellness is concerned, malnutrition stands out as a major modifiable risk factor. Among older adults, the prevalence of malnutrition ranges from 17% to 65% – depending on the group and setting.3 Malnutrition has been connected with increased rehospitalization, increased length of stay with inpatient care settings, falls, hip fractures, depression, poor quality of life, and increased mortality.4-7 For community-dwelling elderly, a common cause of this is the over-reliance on convenience foods that stems from the physical burden of food preparation and from a reluctance to drive and go shopping.
Of course, gradual decline in driving ability represents an insidious risk for seniors. There are millions of aging patients with seizures, Alzheimer disease, Parkinson's disease, and other neurodegenerative diseases who gradually lose the cognitive, motor, and visual skills requisite for safe driving.8 That's why drivers age 85+ have one of the highest per-mile crash rates.9 The fatality rate for older drivers is 17 times higher than that for drivers age 25 to 65.10
Finally, circling back to emergencies, the community-dwelling elderly present special risk. While all households should have plans for fires and natural disasters, such planning becomes especially important for seniors with limited ability in driving, ambulation, or transfers. Moreover, the elderly are prone to additional emergencies from their medical conditions going into exacerbated states. They often need nurse training in recognizing the signs and symptoms of exacerbation, managing the situation, and knowing when and whom to call for help.
If someone you love presents with any of these risks, please remember the private-duty services of McKenney Home Care. Our aides and nurses can provide home safety measures, hands-on assistance with the tasks most associated with falls, nutrition management, shopping & errand assistance, transportation assistance, chronic disease management, home emergency planning, and much more.
References:
1. Bergen G, Stevens MR, Burns ER. Falls and Fall Injuries Among Adults Aged ≥65. MMWR Morb Mortal Wkly Rep. 2016; 65: 993–998.
2. Stevens J, Haas E, Haileyesus T. Nonfatal bathroom injuries among persons aged ≥ 15years—United States. Journal of Safety Research. 2011 Aug 31; 42 (4): 311-5.
3. Isenring E, Banks M, Ferguson M, et al. Beyond malnutrition screening: appropriate methods to guide nutrition care for aged care residents. J Acad Nutr Diet. 2012; 112: 376-381.
4. Pirlich M, Schutz T, Norman K, et al. The German hospital malnutrition study. Clin Nutr. 2006; 25 (4): 563-572.
5. Thomas J, Isenring E, Kellett E. Nutritional status and length of stay in patients admitted to an acute assessment unit. J Hum Nutr Diet. 2007; 20 (4): 320-328.
6. Visvanathan R, Penhall R, Chapman I. Nutritional screening of older people in a sub-acute care facility in Australia and its relation to discharge outcomes. Age Ageing. 2004; 33 (3): 260-265.
7. Correia J, Martins C, Amaral T. Efficiency of MST-Malnutrition Screening Tool – in elderly hospitalized patients. Clin Nutr. 2003; 22 (suppl 1): S10.
8. Uc EY, Rizzo M, O'Shea AM, Anderson SW, Dawson JD. Longitudinal decline of driving safety in Parkinson disease. Neurology. 2017; 89: 1951-1958.
9. National Highway Traffic Safety Administration. Issues Related to Younger and Older Drivers. http://www.nhtsa.gov/people/injury/olddrive/pub/
Chapter1.html Accessed May 2, 2018.
10. National Highway Traffic Safety Administration. NHTSA 2020 Report. http://www.nhtsa.gov/nhtsa/whatis/planning/2020Report/2020report.html Accessed May 2, 2018.
McKenney Home Care, in Naples, FL will be hosting a Lewy Body Dementia Support Group, starting in January 2018. This will be an ongoing support group approved by the Lewy Body Dementia Association in Atlanta, and in affiliation with the Parkinson's Assocation of SWFL, Alzheimer's Support Network, and the Alzheimer's Association.
McKenney Home Care provides exceptional in-home health services and client-centered care. With a passion for maximizing the quality of life of their clients and their families, they are driven to ensure social engagement and specialty services during all stages of life.
For Individuals with neurodegenerative disorders, McKenney Home Care delivers enriched specialized training for its caregivers working with Dementia Patients. In addition to specialized videos and manuals, McKenney educates the caregivers through the use of the Virtual Alzheimer's App. This virtual reality experience helps caregivers understand the feelings and experience of those suffering from Alzheimer's and other forms of Dementia.
Along with their medical expertise, McKenney Home Care is a certified Music & Memory Agency. Providing help for Dementia Patients; this specialized music therapy program is highly personalized and has been shown to reduce the need for anti-anxiety and antipsychotic drugs by up to 50%, while brining joy to the lives of patients who have Dementia.
If you or someone you know would like more information about McKenney Home Care or the LBD Support Group, please call McKenney Home Care at 239-325-2273, or visit mckenneyhomecare.com.
CALL US TODAY!
239-325-CARE (2273)
9655 Tamiami Trail North #201
Naples, FL 34108