By Steve Barboe, The Springs at South Biscayne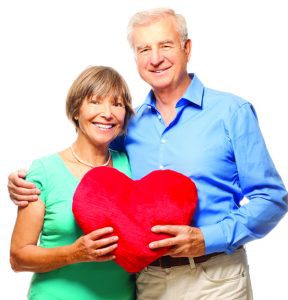 As the leading cause of death for both men and women in the United States, heart disease has been a lethal adversary to our nation's health, killing an estimated 630,000 Americans each year. Arming ourselves with knowledge about heart health is vital for everyone in order to stand up in the fight against heart disease. Seniors are particularly vulnerable, as heart disease accounts for 84% of deaths in those 65 years and older. However, taking small steps to prevent heart disease can have a large impact on our health, regardless of age. During the month of February, which is federally designated as American Heart Month, let's take the time to focus on our hearts to prevent heart disease and live longer, happier lives.
The most common type of heart disease is coronary artery disease (CAD), which can lead to heart attack and other serious issues like stroke and transient ischemic attack (TIA). While there are several different forms of heart disease, most forms share common symptoms and warning signs, including: angina (chest pain and discomfort which is often mistaken for indigestion); heart palpitations or increased heart rate; shortness of breath; nausea or sweating; dizziness, lightheadedness and weakness; throat or jaw pain; and fatigue or exhaustion.
The risk of CAD can be greatly reduced through lifestyle changes and, in some cases, medication. While instances of heart disease can be treated, a preventive stance on cardiovascular health is most recommended. For older adults, this means cutting out as many controllable external risk factors as possible—key risk factors for heart disease that can be controlled or at least improved include high blood pressure, high cholesterol, diabetes, obesity, stress level and smoking. Even though certain risk factors can't be controlled, such as
age, gender and family history, seniors can still make strides toward a heart-healthy lifestyle with the following basic tips:
• Heart-healthy eating – Avoid foods high in fat, cholesterol and sodium (i.e. butter, marbled meats and processed foods), and instead stock up on fruits, vegetables and omega-3 fatty acids, which can be found in fish, avocados and certain nuts.
• Regular physical activity — Experts recommend that seniors get around 30 minutes of exercise a day, 5 days a week. Swimming, running, biking or even walking around the community will increase the heart rate and encourage the heart muscle to pump more efficiently.
• Physician check-ups — It's vital to get your blood pressure and cholesterol levels checked on a regular basis, as well as check with doctors to see if any additional risk factors have arisen. Seniors with multiple risk factors for heart disease should see their doctor at least twice a year.
Additionally, older adults should take the proper precautions to stay at a healthy weight, decrease stress and avoid tobacco. While these changes aren't always easy, making a simple adjustment can often improve several risk factors at the same time. For example, physical activity may help control diabetes, lower blood pressure, reduce stress and manage weight.
This February is the perfect time to incorporate heart-healthy choices and take a stand against heart disease. When President Lyndon Johnson first issued the proclamation for American Heart Month in 1963, he envisioned a healthier future for all Americans. Together we can continue to build a culture of better heart health, preventing cardiovascular disease and allowing individuals to live longer, more fulfilling lives.
The Springs at South Biscayne is an exceptional assisted living, memory support and short-term respite care community in North Port, Florida – and a resource for seniors and their families on lifelong learning and physical, intellectual, social and spiritual enrichment. Residents enjoy the convenience of all-day dining, a unique holistic wellness program, and customized, on-site health services 24 hours a day, 7 days a week. Plus, the financial flexibility and peace of mind that comes from all-inclusive rates, no entry fees and a month-to-month rental structure. To learn more about the lifestyle at The Springs, visit www.TheSpringsAtSouthBiscayne.com.