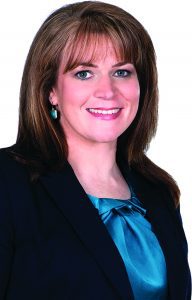 Choosing a primary care physician can be one of the most important health decisions one will make for themselves and their family. Board Certified in Family Medicine and the newest primary care physician at Physicians Regional Medical Group, Dr. Andrea Bickerton, understands this importance. Her philosophy is to get to know each patient on a personal level, and be a trusted and valuable resource in preventative healthcare and overall well-being. "The better I know a patient, the more easily I can detect when something seems off. There is also a level of trust that develops which allows me to provide more
personalized care for each of my patients."
A native of a small rural town in Southwest
Louisiana, Dr. Bickerton has always been fascinated with the human body and how it functions. Her journey in practicing medicine began in Savannah, Georgia where she completed her undergraduate degree at Armstrong Atlantic State University. Dr. Bickerton continued on to medical school in Washington D.C. at Howard University College of Medicine, and later entered U.S. News & World Report's Top 10 Family Medicine Residencies at the University of Missouri Hospitals & Clinics in Columbia, MO. She spent her last three years training in D.C. with her three children and husband by her side.
"Attending medical school and residency with a family was a challenge at times," she says  "but I feel it was beneficial in the end because it has shown my children to never give up on their dreams. If they are willing to work hard, they can accomplish anything they set their minds to."
Dr. Bickerton felt that Family Medicine was a natural fit. "With so many options and specialties available in medical care, I found that I most enjoyed being involved in all components of a patient's health. I also love  that I can provide continuity of care for multiple generations within one family, from newborns to centurions."
2.    State of Chronic Conditions – analyzing medications that patients are taking to include side effects, difficulty in obtaining those medications, recommended monitoring (i.e. labs), and understanding doses. It is also necessary to check on any new associated symptoms or specialists seen within the last visit.
3.    Education – making sure patients understand their diagnoses, medications, recommendations, and ways they can help improve their outcomes. Focusing on things they can do to improve their health in general.
"I enjoy educating and empowering patients to take control of their health, while helping them understand the complex diseases they are dealing with," explained Dr. Bickerton.  "I like to approach my relationship with my patients as a partnership, where we are working together to help them be as healthy as they can be with a shared respect of each other's views."
Dr. Bickerton is new to Naples, and commented that "Everyone has been so friendly and welcoming. After only a couple of months we already feel that this is home and can't imagine being anywhere else." When she is not taking on the important task of overseeing the overall health of her patients, she enjoys her free time outdoors watching the sunsets over the water with her husband and youngest child.
Dr. Bickerton's office is located at Physicians Regional – Pebblebrooke Center, 15215 Collier Boulevard, Naples, FL 34119.
For more information, or to schedule an appointment, please call (239) 348-4221 or visit PhysiciansRegionalMedicalGroup.com.