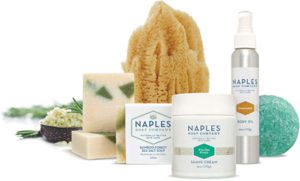 The holidays bring joy by celebrating with family and friends, attending holiday parties, special events and gift giving, but along side of all of the "Fa La La" often comes a bit of stress, over indulgence and rushing from here to there.
This fast-paced time of year can wreak havoc on our skin from dehydration, lack of sleep, poor dietary choices and anxiety, but by using the right products, we can get our glowing healthy skin back in no time. And what better occasion to gift ourselves, or the ones we love with a few anti-aging products or
treatments.
From head to toe, our skin needs moisture, vitamins, minerals and essential oils to regain and improve its condition; so choosing natural detoxifying products that heal deep into the dermal layers is essential.
Using over the counter serums and lotions may seem like a great decision, but what many individuals don't realize is that the chemicals and preservatives in these products can harm not only your skin, but also your overall health. We all know that certain ingredients can clog pores, but did you know that skincare products penetrate directly into your bloodstream?
If you've got products with a list of ingredients that you can't easily pronounce, you may want to rethink your regimen, as some of these can cause immune dysfunction, cancer and other adverse reactions.
Naples Soap Company offers the highest quality natural bath and body products with the health of your skin in mind. Using only natural preservatives and fortifying their products with things like cocoa butter, coconut oil, vitamins, flax seed oil, and fruit extracts, this line has helped many people improve their anti-aging results and overcome skin disorders with regular use.
Face
Sloughing off the dry, dead skin cells is critical when beginning a new skincare routine. A great place to start is with Naples Soap's Coffee Face Polish, which stimulates the skin's brightness and tone with coffee beans and cocoa. From there, balancing the skin with their lightweight Face Oil will nourish the dermal layers with antioxidants, while boosting the skin's immunity. Step three is to hydrate and plump the skin with products like Acai Deep Wrinkle Cream and Revitalizing Eye Serum. The seaweed, collagen and antioxidants will help to restore your skin's glow, tighten, and brighten your skin tone.
Body
Exfoliating your whole body is easy with Loofah Soap, which combines all-natural glycerin soap in multiple
fragrance choices with an all-natural loofah. This will cleanse, smooth roughness, stimulate collagen
production, even out skin tone, and whisk you away into paradise with scents like Passion Fruit and Bondi Breeze.
You can't get more decadent than Naples Soap Body Butter. It's an incredibly rich moisturizing lotion that absorbs easily into the skin. They offer eight different scents along with an unscented version for your
personal preference. And once again, all of the ingredients are natural and good for your body. Made with antioxidants, cocoa and shea butters to hydrate the body, leaving skin soft and supple, you'll love the immediate and long-lasting results of their body butter.
Hair
Sometimes, we overlook the fact that our bad hair days have a little more to do with our health than our hair. This is especially the case if we are stressed, not eating right or deficient in particular vitamins and minerals like biotin, collagen, or folic acid.
The Shampoo Bar is a new way to wash health into your hair and scalp without the waste and sulfates. It's coconut oil and cocoa butter based (SLS-free) moisturizers leaves hair soft, nourished and clean without stripping away your natural oils or hair color.
The pro-vitamin complex and lemon peel strengthen hair and adds shine. This product also comes in a variety of scents with various antioxidants and essential oils. The Conditioner Bar works in much the same way, leaving no product waste, only healthy shiny hair, nourishing from the hair shaft out.
Why not give the gift of beautiful healthy skin with Naples Soap Company's innovative and all-natural products? Who doesn't love to pamper themselves with invigorating beautiful skincare?
Since launching Naples Soap Company nine years ago, they are now in eleven retail locations in Florida to serve you. To find out more, or to give the gift of beautiful skin, please visit naplessoap.com, or stop by one of their stores.
DEANNA WALLIN
Naples Soap Company Founder and CEO
Combining her passion for people and products, Deanna Wallin has taken Naples Soap Company from a tiny 300 square foot shop to a footprint of 11 retail locations throughout Florida.
Her passion, style, and client commitment has created a devoted following for her products. Travelers come from all over the country to visit her unique stores and experience the fun, coastal, upscale ambiance which she has created. The stores are a refection of her hometown of Naples' healthy lifestyle and attitude.
The Naples Soap Company brand has become widely known throughout the US, Europe, and Japan. The Company is poised to continue its phenomenal growth, and on track to complete a 20 store footprint within 5 years. Wallin attributes the success of the Company to loyal clients who appreciate quality products and superior customer experience.