By John Mina, D.P.M.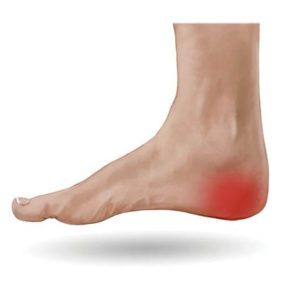 It seems like more and more people are suffering from heel pain than ever before. Heel pain can cause great discomfort and interfere with a person's ability to work or even enjoy life. Well, before I start explaining how to cure it, let's discuss exactly what the causes are. There are a number of possible reasons for heel pain to occur such as injuries or skin diseases but by far the most common cause is not enough arch support. The tissue that supports the arch is called the plantar fascia. When it is strained it pulls on the heel bone where it attaches. This causes the area to become inflamed and painful. It can even result in a heel spur. Keep in mind that heel spurs are NOT usually a cause of pain but show the doctor that you have not had good arch support for a long time.
So how is it cured? Many people go without treatment in the hope that it will just go away on its own. But since every step taken re-injures the sore area, that is usually not a successful strategy. Basically, when treating this problem there are three major goals: First, it is important to try and eliminate the pain as soon as possible. When someone has heel pain, they do not walk normally. This imbalanced walking puts extra stress on the other joints causing damage to knees, hips and back. Second, we want to allow and help the body to completely heal the problem. This can take some time since people are walking on it every day. Finally, the forces that caused the problem in the first place have to be changed.
The treatments used to achieve these goals can include injections of cortisone mixed with anesthetic, strapping, walking boot, physical therapy, and/or efforts by the patient to temporarily decrease activity.
One extremely important aspect of treating and curing heel pain is footwear. If you don't wear the right kind of supportive, cushioned shoes, you are less likely to get rid of the pain and more likely to have it come back if you do get relief. I recommend wearing a good pair of athletic style walking shoes that are adjustable with laces or Velcro. Prescription arch supports (orthotics) are extremely useful for maintaining arch support and avoiding future painful recurrence of the problem. Understand that having a doctor prescribe the arch supports is as important as having a doctor prescribe glasses. You would not be likely to walk into a drug store and buy a pair of glasses off the shelf. And if you did, the glasses would not be as effective for you as a pair ordered by a doctor. In other words, don't buy arch supports from a shoe store, drug store, or online. See a foot doctor.
In the vast majority of patients that I treat, we are able to cure heel pain without having to do surgery.
However, if basic treatments fail, there are some simple procedures that can be used to correct the problem. Usually, the procedures can be performed through a tiny incision and there is minimal incapacitation.
In summary, if you have heel pain don't expect it to go away on its own, seek treatment from a foot doctor, and follow your doctor's instructions.
John Mina, DPM, ABPMS
Dr. Mina received a Bachelor's of Science from the University of Miami in Coral Gables, Florida and his Doctor of Podiatric Medicine from Pennsylvania College of Podiatric Medicine in Philadelphia. He joined Southwest Florida Ankle and Foot Care Specialists after 14 years of experience in private practice. Dr. Mina has extensive training and experience in peripheral neuropathy and specializes in minimum incision surgery.
Credentials
• Doctor of Podiatric Medicine
• Fellow, American Board of Multiple Specialties
in Podiatry
• Academy of Ambulatory Foot Surgery
Medical Education
• Pennsylvania College of Podiatric Medicine
Professional Affiliations
• American Podiatric Medical Association
• Florida Podiatric Medical Association
• Lee County Podiatric Medical Association
• Southwest Florida Podiatry Society
• American Institute of Foot Medicine
• International College of Podiatric Laser Surgeons
• American Society of Podiatric Legal Medicine
Ankle & Foot Care Specialists
www.aimsfl.com | 239-433-7433
16 locations throughout SWFL