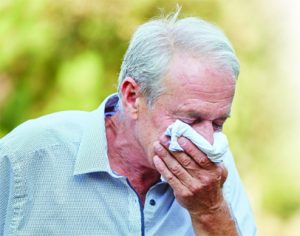 According to the CDC, Florida is one of the states with the highest records of influenza infections. This year, the flu has affected young and old alike and caused unprecedented amounts of hospitalizations and deaths. Adults 65 and over are more susceptible to the dangers of the flu, as their symptoms can quickly exacerbate into pneumonia or other disease states. As the immune system in the elderly becomes weaker, the ability to fight off viruses and bacteria becomes more difficult and problematical with age. Many seniors are left much more vulnerable to the complications of respiratory infections, than healthy, younger adults.
It doesn't take an expert to realize that coughing is a significant symptom of the flu. However, coughing is actually a natural bodily reaction to excess buildup in the respiratory tract, meaning that your body is trying to clear itself of phlegm and other materials. Unfortunately, the cough and gag reflexes that induce a coughing fit become more suppressed as we age. This means that even though a senior with the flu has a blocked respiratory tract, he or she might not even feel the symptoms of this buildup in their lungs. Regrettably, this excess of fluid makes elderly patients more susceptible and at higher risk of developing pneumonia. Pneumonia is the fourth leading cause of death in the U.S. among the elderly.
Since 90% of flu-related deaths are in adults over the age of 65, it's essential to plan ahead, as there are ways to prevent the flu. Along with the traditional flu shot vaccination, there is a high dose flu vaccine. This high dose vaccine is ideal for the elderly population because it contains three different flu strains, which makes staving off the flu virus, much easier. It also provides more antigens, than a standard flu shot, which creates antibodies that fight the flu virus.
If you or a loved one haven't been vaccinated and becomes infected with the virus, there are antiviral medications that help limit the length and severity of the flu, but it has limited effects, especially for seniors.
Additional risks associated with the Flu
• Pneumonia
• Bronchitis
• Sinus infections
• Ear infections
• Extreme fatigue
BE PROACTIVE
• Get vaccinated
• Ask about the high dose flu vaccine option
• Practice thorough hand-washing often
• Cover your cough with your sleeve or a tissue
• Avoid people who are sick
• GET ADDITIONAL HELP FOR THE ELDERLY LOVED
ONE IN YOUR LIFE
Brightstar Care of Venice & Port Charlotte
At Brightstar Care, they offer the dedicated support that caregivers and patients need. They understand the rampant spread of the flu and its serious complications, and they take every one of their patient's health and safety concerns into effect. Brightstar Care makes sure that their staff is well-trained on the precautions, preventions and it's mandatory that they too receive a flu vaccination.
Nationally accredited home care services
• Transportation
• Bathing and dressing
• Light housekeeping
• Meal prep
• Companionship
• Dementia care
• Medication reminders
• Respite care
• Specific national patient safety goals for falls and infection control
• Patient home inspection
• Emergency preparedness plan and creation of emergency backup kit
• Care staff competencies verified by a Registered Nurse (RN) before being assigned
• RN oversight on every case
• Stringent screening and employment practices
• Third-party customer satisfaction surveys
At BrightStar Care of Venice & Port Charlotte, they believe that caring is more than just a job– it's a way of life. That's why their caregivers mean so much more to the people, families, and organizations they serve. BrightStar Care nurses, therapists, CNAs, and caregivers deliver professional and compassionate care in the comfort and familiarity of home. They provide a range of home care services to meet your loved one's unique needs. From companionship, bathing, and hygiene assistance to in-home infusions and medication management, their professional care staff is available 24/7 to help when you need it most.
Brightstar Care of Venice & Port Charlotte has received numerous awards, including the prestigious Best of Home Care – Leader in Excellence Award from Home Care Pulse, and 2018 Best of Home Care® – Provider of Choice and Employer of Choice Awards to name a few.
BrightStar Care is ready to help. For more information or to schedule a complimentary in-home care assessment, contact our BrightStar Care of Venice & Port Charlotte office at (941) 412-4070.
BrightStar Care
941.412.4070
www.brightstarcare.com