By Anne Marie Tremaine, MD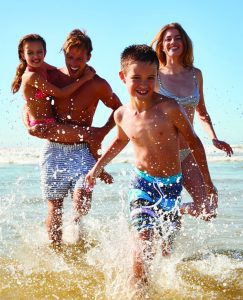 Vibro Vulfinicus is a bacterium of legitimate concern in southwest Florida. Thankfully infection with V. Vulfinicus is rare (although underreported) but most cases in the U.S. are found in Gulf Coast states. According to the Florida Department of Health, since 2014, the counties with most reported infections include Brevard (7 cases), Duval (9), Hillsborough (9), and Sarasota (7).
Vibrio Vulnificus can be contracted from exposure to raw shellfish; either from oral consumption or by exposure of open skin wounds to contaminated water or shellfish. Oysters are of particular concern with V. Vulfinicus infection, but it can occur with any shellfish. The bacterium is most commonly found in warm, shallow, coastal salt water.
The risk of infection increases in individuals who are immunocompromised (weakened immune system). These individuals need to take even more precautions, always wearing proper footwear. An infection could occur from a cut from a shell/rock while walking on the beach.
The symptoms from oral consumption of V. Vulfinicus include nausea, abdominal pain, and diarrhea. Contamination of V. Vulfinicus in an open skin wound can lead to a skin infection (cellulitis) which appears as swelling, tenderness, and a rash consisting of red or purple blisters and ulcers. The legs are the body part most commonly infected.
The good news is V. Vulfinicus responds quickly to antibiotics when started early. However, if the infection goes undiagnosed or untreated, the infection can lead to sepsis, limb amputation and even death.
The key to evading V. Vulfinicus is prevention. Those with open wounds, fresh cuts, or broken skin should avoid contact with warm salt or brackish water. Wearing a bandage over the wound is not sufficient to prevent infection. It is also helpful to wear gloves when handling raw shellfish collected from such waters. Stay safe out there!
Anne Marie Tremaine, MD
Board Certified Dermatolgist
Harvard Cosmetic and Laser Medicine Fellowship
Dr. Tremaine is a board-certified dermatologist with fellowship training at Harvard Medical School in laser and cosmetic surgery. She has contributed as a dermatology expert for online and print magazines including Family Fun, msn.com, menshealth.com, and ccn.com. In addition, she frequently lectures to
professional societies on her diverse research.
For more information about skin care visit the Skin Wellness Physicians website at: www.skinwellnessflorida.com