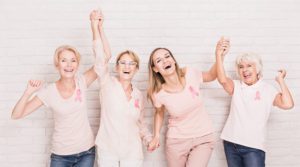 Good news; improved diagnosis and advances in treatment for breast cancer have resulted in a growing number of survivors who are living longer. Bad news; forward progress in battling the disease isn't always linear and can have some major drawbacks impacting long term survival. A scientific statement published by the American Heart Association in their Feb. 20, 2018 issue of Circulation notes that breast cancer patients may experience a higher risk for cardiovascular disease, including heart failure. "Cancer treatment therapy can have significant cardiovascular side effects," says Sarah deLeon Mansson, D.O., board certified cardiologist at Physicians Regional Medical Group. "Many cancer patients now survive long enough to see these effects and one of the primary causes of their mortality is cardiovascular disease." This one step forward, two steps back notion has compelled cardiologists and oncologists to underscore the importance of combining effective strategies to manage or minimize risk from cancer therapy.
It is no secret that radiation therapy and certain cancer drugs, while showing effectiveness in killing cancer cells, can have toxic and damaging effects on the rest of the body including the heart.
An article published in the American College of Cardiology (ACC) references that chemotherapy can cause pulmonary dysfunction, anemia, skeletal muscle and cardiomyocyte dysfunction, endothelial dysfunction, and arterial stiffness.1 The article goes on to include that patient factors including presence of comorbidities and lifestyle factors, such as physical inactivity, excess body weight, and tobacco use also impact cardiovascular reserve. "From a cardiology perspective it's recommended that we first identify patients who are at high risk," says Dr. Mansson. "We also work with oncologists to help monitor cardiotoxity, avoid dose interruptions and prevent cardiac events." Dr. Mansson points out that there is a guideline document that is followed according to the dosage of chemo and amount of radiotherapy given to patients.
Developing strategies prior to breast cancer therapy play a role in managing the risk of heart damage. "As clinicians, we can provide a comprehensive assessment prior to potentially cardiotoxic therapies, and recommendations by the ACC have been to avoid or minimize use of potentially cardiotoxic therapies if established alternatives exist that would not compromise cancer specific outcomes," says Dr. Mansson.
Dr. Mansson emphasizes that certain lifestyle choices can help combat heart disease risk factors.
These include:
• Maintaining a healthy weight
• Refraining from smoking
• Stress reduction techniques (meditation, yoga)
• Eating a healthy diet low in saturated fat, cholesterol and salt, and staying away from refined carbohydrates
• Exercising 30-60 minutes, most days of the week
While damage to the heart can be an issue among breast cancer patients seeking treatment, this should not deter them from undergoing treatment. Making informed decisions with your healthcare provider is important in creating the best strategy to fight breast cancer and protect your heart at the same time.
Dr. deLeon Mansson's offices are located in Naples at Physicians Regional – Collier Blvd, 8340 Collier Blvd, and Physicians Regional – Pine Ridge, 6101 Pine Ridge Rd. For more information or to schedule an appointment, please call 239-348-4221, or schedule online at www.PhysiciansRegionalMedicalGroup.com.
1 https://www.acc.org/latest-in-cardiology/articles/2018/06/29/12/57/cv-
toxicity-in-cancer-survivors