By Daniel I. Wasserman, M.D.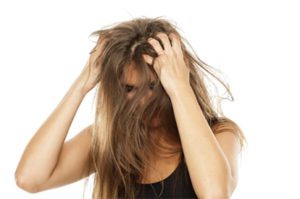 One of the most commons causes for patients to seek a dermatology consult is for itchy skin on the neck and/or face, particularly the eyelids. It is often surprising for patients to learn that one of the most common causes of an itchy rash on the face may be an allergy to something they may have been exposed to for years, even decades. Allergic contact dermatitis (ACD) results when an allergen comes into contact with previously sensitized skin. Importantly, ACD is not caused from the ingestion of allergens, but physical touch, often referred to as a delayed-type hypersensitivity reaction where the skin eruption may not manifest for two or even up to five days after the exposure. Studies have shown that a daily ACD on the face may in fact be caused by exposure to an allergen just twice a month. There are two types of dermatitis caused by substances coming in contact with the skin: irritant dermatitis and allergic contact dermatitis.
A distinction must always be made between irritant contact dermatitis and ACD. Irritant dermatitis is an inflammatory reaction in the skin resulting from exposure to a substance that causes an eruption in most people who come in contact with it (i.e. acid). Allergic contact dermatitis is an acquired sensitivity to various substances that produce inflammatory reactions in those, and only those, who have been previously sensitized to the allergen (i.e. nickel, poison ivy).
The most common causes of contact dermatitis in the US are: toxicodendrons (poison ivy, oak, or sumac), nickel, balsam of Peru (most common ingredient in fragrances), neomycin (active ingredient in Neosporin®), fragrance, thimerosal, gold, formaldehyde and the formaldehyde-releasing preservatives,
bacitracin (found in over-the-counter antibiotic ointments including Neosporin®), and rubber compounds.
In our practice at Skin Wellness Physicians, the head and neck are the most common locations for us to identify ACD. The eyelid skin is the second thinnest skin on the human body and thereby is very susceptible to aerosolized allergens penetrating it to stimulate an allergic reaction. Hairsprays and perfumes/colognes are the most common causes of eyelid ACD we see, followed by nail polish dermatitis due to the frequent touching of one's eyes throughout the day. The scalp is relatively resistant to the development of contact allergies; however,
involvement may be caused by hair dye, hair spray, shampoo, or permanent wave solutions. When the clinical presentation manifests more on the neck, we will strongly favor the former causes and possibly entertain a nickel dermatitis from jewelry.
When ACD is suspected, it is important for individuals to consider every cosmetic that one uses, whether it is directly applied to the face or not. Frequent examples are products used for the hands (i.e. nail polish) whereby touching the face can elicit an ACD, or even spray-on deodorants due to their aerosolized nature of the product reaching the face through the air. The fundamental component to treatment is product avoidance. Topical steroids and similar products can be used to relieve the inflammatory effects of ACD, but without allergen avoidance, complete relief may never be achieved. For the severest of cases, oral prednisone can be used to provide better control. When identification of the allergen is not easily attained, complete patch testing can be done to further investigate the cause. The patch test consists of application of substances suspected to be the cause of the dermatitis to intact uninflamed skin. Test substances are applied usually to the upper back and are removed after 48 hours (or sooner if severe itching or burning occurs at the site) and read. The patch sites need to be evaluated again at day 4 or 5 because positive reactions sometimes do not appear earlier. Some allergens may take up to day 7 to show a reaction and the patient should be advised to return if such a delayed reaction occurs.
Ultimately, there are an infinite number of causes of skin eruptions on the face such as acne, rosacea, eczema to name a few. It is important for patients to seek the care of a Board Certified Dermatologist to better investigate and treat the cause of a person's facial rash safely and effectively. Remember, if you notice that itch every time you get ready for that fancy affair, your hair may look good, but your skin could be crying for help.
Daniel I. Wasserman, MD
Fellowship-trained Laser and
Cosmetic Dermatologist
Fellowship-trained Mohs Surgeon
Board Certified Dermatologist
Dr. Wasserman is a board certified dermatologist with fellowship training at Harvard Medical School in laser and cosmetic surgery, as well as fellowship training in Mohs skin cancer surgery. He has contributed as a dermatology expert for online and print magazines. In addition, he frequently lectures to professional societies and organizations on his diverse research. For more information about skin care visit the Skin Wellness Physicians website at www.skinwellnessflorida.com
SKIN WELLNESS
239.732.0044
www.SkinWellnessFiorida.com
EAST NAPLES:
8625 Collier Blvd.
DOWNTOWN NAPLES:
1300 Goodlette Road
MARCO ISLAND:
Marco Island Medical Center, 531 Bald Eagle Dr.