By Dorothy Minichiello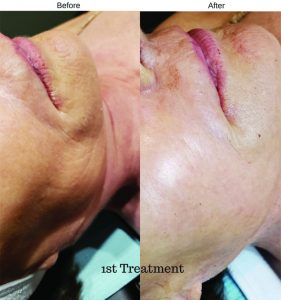 Vintage Lashes™ offers the ultimate skin rejuvenation techniques using your own PRP.  This method is often referred to as the Vampire Facial because your platelet-rich plasma is spun in a centrifuge to separate the blood from the plasma which is then delivered at time of puncture directly through the microneedles.  A combination of PRP and microneedling results in tighter skin/less wrinkles, decrease hyperpigmentation, scars, helps with acne, smaller pores, fewer wrinkles, evens out skin tone.
Not All Methods Are Equal
Vintage Lashes™ is in the Know and offers you the latest cutting-edge treatment options! They have a Patented Advanced Microneedling machine. Just ONE of Vintage Lashes™ microneedling treatments is comparable to THREE to FIVE regular microneedling treatments. Every puncture delivers their specifically formulated serum into the skin, and also acts as a lubricant, which is less painful than regular microneedling.
Vintage Lashes™ advanced microneedling PRP (Platelet Rich Plasma) delivers serum & platelets into the skin at the time of puncture. 40,000 micro-punctures in 10 minutes! The results are like nothing the industry has ever seen. It's the best PRP treatment available on the market. Your entire face is being treated with PRP rather than injections that are painful, sporadic and isolated.
Vintage Lashes™ is pleased to offer a patented advanced microneedling machine, which separates them from many companies providing this same service. They are the only company in southwest Florida that owns this patented machine. Training alongside the inventor of this unique machine was a tremendous honor for the Vintage Lashes professionals. The upgraded microneedling technology allows for delivery of nutrients in a serum base or your own Platelet Rich Plasma (PRP) with each of tiny perforations.
The current, basic microneedling machines on the market puncture via a vibration mechanism that has 12 needles (0.35mm) with short step puncturing tiny holes into the skin and then a serum is applied topically to absorb into the skin through the newly created punctures. In typical PRP procedures, your platelet-rich plasma would be injected by a needle in several locations throughout the area.
Vintage Lashes™ Advanced Microneedling machine was designed to operate using a hammering mechanism (up and down action) with a 0.20mm needle attached to a tube full of serum (or PRP). The U shaped cap at the top of the needle allows the serum to go deeper into the skin, making the skin plumper. The serum is being delivered into the skin instead of being absorbed like normal microneedling. The serum also acts as a lubricant when being punctured into the skin making advanced microneedling less painful and your skin will naturally heal much faster.
PRP Microneedling for Hair Restoration
Typically most individuals have over 1,500 to 2,000 hair follicles on their head.
Both men and women seek hair restoration to boost their self-esteem. If you are a male or female that has baldness or thinning hair, you will be amazed at the effect of PRP hair restoration. It can change your life just by making you feel and appear more confident, and you'll look years younger.
How does it work? Blood is extracted from the patient and is spun in a centrifuge to separate the platelets from the red blood cells, and creates a rich plasma. This is injected back into the scalp, and is intended to stimulate activity in the hair follicles. The treatment has been used in cosmetic applications for years and is scientifically proven to work.
Platelets are naturally extremely rich in the connective tissue growth and healing factors. Injecting these growth factors into damaged hair follicles stimulates the natural repair process. When PRP is injected into the dermis layer of the scalp to stimulate the shrinking hair follicles.
Because Vintage Lashes™ is highly regarded and prides themselves on being on the cutting edge, their artists and estheticians are required to have advanced training, multiple certificates, and many years of experience.
Summer Special $800 off a Package of 4 Sessions, which is $200 off each Session!
To book your appointment, view their gallery of before and after photos, or to find out more, please visit their website at VintageLashes.com, or call 239-263-1050.
Vintage Lashes
89 9th Street South,
Naples, FL 34102, USA
239-263-1050
www.VintageLashes.com
TheHealthyGlow@gmail.com