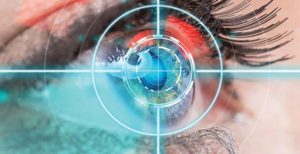 Twenty-five years ago, in the summer of 1994, Dr. Jonathan Frantz started Frantz EyeCare to achieve his life's mission; providing a lifetime of better vision to the people of Southwest Florida through access to the latest technology and world-class service. He began this mission with a single location in Lee Memorial Hospital. Since then, his thriving practice has grown exponentially to 13 surgeons and optometric physicians and 6 locations throughout Lee, Charlotte and Collier counties.
Dr. Frantz has kept true to his life mission to provide world-class eye care to the people of SWFL by pioneering the field of Ophthalmology. He brought Bladeless Laser Cataract surgery to the area in 2012 and has since been named one of the country's Top 5 Bladeless Laser Cataract Surgeons. He has also been recognized as the Best Cataract & LASIK surgeon in SWFL by News-Press readers for multiple years and is listed in the Guide to America's Top Ophthalmologists. In 2018, Dr. Frantz was ranked as the #1 Cataract Surgeon in Southwest Florida by AHCA.
Dr. Frantz and his team of specialists at Frantz EyeCare remain committed to providing access to the best technology to help their patients achieve their best possible vision at all points during their lives. This is accomplished through routine eye care with advanced technology for outstanding vision with glasses or contacts, treatment of ocular diseases such as glaucoma or macular degeneration or reducing dependency on glasses and contact lenses with Bladeless LASIK or Bladeless Laser Cataract Surgery. Frantz EyeCare even offers a full range of facial and body cosmetic rejuvenation services for those patients wanting to improve their self-confidence and overall appearance.
Today's modern cataract surgery is one of the most common and most effective surgical procedures out there.1 Cataract surgery used to be invasive with a long recovery but it is now an outpatient procedure requiring no hospital stay, no stitches and no patches.
Most patients resume normal activities the next day and report little to no discomfort. More than 3 million cataract surgeries are performed in the US every year, with the vast majority producing excellent visual outcomes.2
The goal at Frantz EyeCare is to provide the right cataract treatment for each person's individual lifestyle and vision goals. Choices include basic cataract surgery or Bladeless Laser Cataract Surgery with the LenSx® Laser. The advanced, precision-based LenSx Laser operates with unmatched accuracy and computer-guided control, helping to customize the procedure to each patient's unique eye. Patients may also choose between a basic intraocular lens (IOL) to
replace their cloudy lens or Advanced LifeStyle Lenses, in order to reduce their dependence on glasses and contact lenses.
With basic IOLs, patients who wore glasses before surgery will likely have to continue to wear them in some capacity after cataract surgery. However, patients who would prefer to not wear glasses after cataract surgery, including those with presbyopia (trouble reading up-close) and/or astigmatism, often opt for an Advanced LifeStyle Lens. Dr. Frantz works with each patient to create a customized plan ensuring that the Lens selected best fits their lifestyle and visual goals.
Frantz EyeCare is honored to have improved the lives of generations of Southwest Floridians over the last 25 years, from routine eye exams to specialized vision correction procedures including Bladeless Cataract Surgery, Bladeless LASIK, eyelid surgery and the medical treatment of glaucoma and diseases of the retina and cornea. At Frantz EyeCare, every patient is treated like a family member. Several of Dr. Frantz's first patients have brought their children and grandchildren to Frantz EyeCare for their vision care needs.
"I like to think there is a significant difference in the level of care you will experience at Frantz EyeCare when compared to nearly any other similar center," said Dr. Frantz. "We treat every patient with great respect and care as if they are a member of our family."
As part of his commitment to excellence, Dr. Frantz continues to move forward with Frantz EyeCare by hand selecting new surgeons and optometric physicians to continue to provide the families of Southwest Florida with a lifetime of better vision. "It is an honor and privilege to be able to provide the people of Southwest Florida with world-class vision care. I consider it my duty to bring in the best specialists to continue the Frantz EyeCare legacy for many generations to come," said Dr. Frantz.
Frantz EyeCare is a premier comprehensive ophthalmology practice with multiple locations in Southwest Florida. They're known for their personalized, compassionate care and unmatched attention to every detail as well as for being trailblazers where technology is concerned.
From comprehensive eye exams and an impressive selection of contacts and designer frames to vision-correcting procedures for every stage of life, Frantz EyeCare can meet just about any eye need you might have.
Become a part of the Frantz EyeCare family today.
239-430-3939
www.BetterVision.net
To schedule an appointment online, visit www.Bettervision.net or call the Naples office of Frantz EyeCare at 239-430-3939.
1 National Institutes of Health
2 Individual results may vary