Lynn Matthews' heart stopped last November.
His ordeal holds lessons for us all.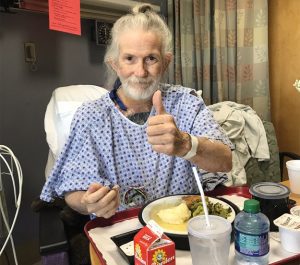 For Venice Realtor® Tammy Kitt, the final walk-through last November with customer Gilbert "Lynn" Matthews was routine. The home was checking out just fine, the movers were on the way with Matthews' furnishings, and the two were headed out the door when Matthews said he wanted to check one more thing.
Within minutes, the meeting became anything but routine.
Matthews collapsed to the floor in the hallway and was turning blue. The events that followed meant that Kitt lost the sale but saved a life.
For the 69-year-old Matthews, the events of that day and many others never happened. When his heart stopped that day, the loss of blood flow to his brain erased years of memories, perhaps permanently.
But through the combined efforts of Kitt, the emergency services team, and a large cadre of physicians and caregivers at Venice Regional Bayfront Health, Matthews is gradually recovering through rehabilitation and the watchful care of his niece and nephews.
"Tammy Kitt is a hero and is now a member of our family," said Lynn's niece, Victoria Matthews. "And I can't say enough about Venice Regional. It's amazing. I recommend it to everyone."
When minutes count
When Lynn slumped to the floor on November 2, 2017, Kitt checked for breathing and a pulse. Nothing. She quickly called 9-1-1 and tried to adjust Lynn's position so she could perform hands-
only CPR. The EMS team arrived and began trying to revive the prostrate man, shocking him multiple times to restart his heart, then moving him rapidly to the ambulance where Lynn "flat-lined" again, according to Kitt.
"I did what anyone would do in that situation," said Kitt, whose voice choked with emotion as she recalled seeing Lynn carried to the ambulance. "I told him to fight. I put my hand on him and told him to keep fighting. He definitely has a strong spirit. He is a fighter; he is a survivor."
Lynn arrived at Venice Regional's emergency room alive but unresponsive. The hospital had no emergency contact and no medical history for the unconscious man.
In fact, it was two days before the hospital could locate Lynn's family in Texas. Lynn's nephews, Jackie and Stephen Matthews, immediately arranged to leave work and fly to his uncle's aid. Jackie's wife Victoria followed a day later and would remain with their uncle in Venice throughout his hospitalization and rehabilitation.
In the emergency room, the team started Lynn on hypothermia protocol to chill his body and help preserve vital organs, including his brain. Interventional cardiologist William Woolverton, M.D., of Gulf Coast Medical Group Heart & Vascular Center conducted an imaging study (coronary angiogram) in the hospital's state-of-the-art catheterization lab to further assess the condition of Lynn's cardiovascular system.
"We hoped to find a way to open up blood flow through the heart, but we found that he had severe, chronic coronary artery disease," Dr. Woolverton said. "Two of three arteries were blocked and apparently had been for a long time. Balloons (angioplasty) and stents would not work. He appeared to have a weak heart with some scarring (aneurism) at the tip of the heart. That condition would be enough to stop the heart."
Complicating the situation further, Matthews had a continuously bleeding tumor on his upper chest that appeared to be skin cancer that had gone untreated.
"Mr. Matthews' prognosis looked horrendous at the outset," Dr. Woolverton said. "The cancer on his chest, the condition of his heart. He appeared to have neglected signs and symptoms over the years. We learned that he lived alone and didn't have someone pointing things out to him. He did not seek routine medical care."
Victoria confirmed that her uncle preferred not to go to doctors and used natural remedies. He had been treating the chest wound on his own, she said.
After assessing Lynn's condition, Dr. Woolverton and the team in the Cardiovascular Intensive Care Unit (CVICU) used medication to try to stabilize heart function. Miraculously, Lynn gradually improved and was moved from CVICU to a medical unit in the hospital. By then, his family had arrived and stayed at his side day and night.
Forty-eight days
Lynn was improving, and the Venice Regional team hoped he would get well enough to receive a pacemaker with defibrillator to maintain his heartbeat. But then his heart stopped again on November 20.
"I watched from the doorway as they brought him back, but he wasn't breathing on his own," Victoria said. "We went back to the CVICU and started all over again."
At that point, the medical team and family had to consider whether they should continue life support. But Lynn turned the corner again and began to recover.
Board-certified neurologist Enrico Vintayen, M.D., of Gulf Coast Neurology Associates followed Lynn's progress, frequently assessing his brain's status and advising the team on the potential for recovery from multiple assaults.
"We noticed that his niece's presence and care was aiding his recovery," said Dr. Vintayen, adding that patients with neurological problems often recover better with the aid and comfort of attentive family members.
Back on the medical unit again, Lynn continued to progress with Victoria's help.
"He wanted to live, and the staff gave me the resources to help him," Victoria said. "Anything I would come up with, they would let me try it. Squeeze balls, spinners. We had to keep his hands busy to keep him from pulling his lines out."
Eventually, Dr. Vintayen cleared Lynn for the pacemaker/defibrillator procedure, which was performed by Dilip Mathew, M.D., who is board-certified and fellowship-trained in cardiology and cardiac electrophysiology.
"To give a patient one of these devices, we need to be certain of a decent prognosis – that the patient will be fit for at least a year," said Dr. Mathew, who specializes in managing heart rhythm disorders at Sarasota-based Heart Rhythm Consultants P.A. "The device we gave Mr. Matthews is a pacemaker with an extra wire. He was on the verge of death, and with this device, he should be able to lead as functional a life as possible for his condition."
The next step for Lynn was surgery to remove the squamous cell cancer from his chest. The team called in board-certified surgeon Issam Halaby, M.D., of Surgical Associates of Venice & Englewood to excise the cancer.
"Normally, when a patient is this sick, we would not perform elective surgery, but the tumor was bleeding continuously, so we had to resect it," Dr. Halaby said. By the time all the diseased tissue was removed, the muscles in Lynn's neck and chest were exposed. The cancer had come dangerously close to invading his breastbone.
Lynn would require reconstructive surgery on his chest, but first, the four-inch-diameter wound would need to heal to provide a stable base for a skin graft. Dr. Halaby applied a vacuum dressing to stimulate healing.
After a period of weeks, Lynn's chest had healed enough for the next step: plastic surgery, performed by David Yan, M.D., a board-certified plastic surgeon with Gulf Coast Medical Group in Venice. Dr. Yan said he conducted a "relatively straightforward" skin graft using skin from Lynn's leg.
Looking ahead
After 48 days at Venice Regional and intensive training with the hospital's inpatient rehabilitation team, Lynn was discharged to a residential rehabilitation facility in Sarasota. He stayed there a week, then began outpatient rehab at Venice Regional's Physical Therapy & Rehab Center.
Four months after that fateful meeting with Tammy Kitt, Lynn and Victoria were living in a rented home in Venice and traveling twice a week to rehab.
"We're continuing with physical therapy and speech therapy to make him better and stronger," Victoria said.
According to Dr. Woolverton, determining additional steps in Lynn's care will depend on how well he recuperates and further assessment.
In the month and a half that Victoria stayed with her uncle at Venice Regional, she witnessed the hospital staff's activities day and night. The family was so impressed by Venice Regional that Victoria and Lynn visited the staff around Christmastime to thank them and show the team how much Lynn had improved. There was laughter, and there were tears.
"I've never seen a hospital quite like it," she said. "The nurses and CNAs (certified nursing assistants) worked around the patient; not around their own needs or how many patients they had. The doctors were amazing – so compassionate, but they didn't give me false hope."
Victoria relates how staff from the hospital's coffee shop visited her frequently, bringing coffee and even offering hugs when they could tell she was upset.
"Every patient's situation is unique, and not everyone may have the outcome Uncle did," said Victoria, who expressed gratitude for the faith of many who prayed for Lynn's recovery. "We just want to give people hope."
After his medical ordeal, Lynn offers advice for others with symptoms of health problems: "Seek treatment and go to that hospital."
For more information about health care services mentioned in this story, please call 941-483-7978.
Venice Regional Bayfront Health
Call 941.483.7978 or visit VeniceRegional.com