By Dr.Brian C. Rell, DPM, FACFAS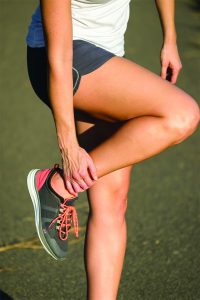 Your Foot and Ankle is a combination of bones, joints, ligaments, tendons, and muscles that provide an extensive range of motion in basic everyday tasks, as well as in advanced athletic performance. Whether you are walking to your mailbox or running a 5K, an optimal range of motion is key to healthy living. However, our feet and ankles often become injured with overuse, or acute damage causing stiffness, instability, and discomfort.
Occasionally the symptoms and pain come and go, while other times they are chronic and lingering. Dependent upon whether or not the issues are caused by soft tissue, bone or cartilage injury, mobility problems and pain commonly increase with time. A Proper medical analysis is ideal to correctly diagnose and treat your injury to get you back to living the quality of life you desire.
Common Symptoms
With foot and ankle issues, many people experience pain when putting pressure on their feet in the most common daily tasks. And more often than not, weakness, popping or clicking noises, hip and leg pain are concurrent with foot and ankle injuries.
Causes
• Twisting of foot or ankle
• Ballistic Movements
• Overuse
• Bursitis
• Bone Spurs
• Ligament Tears
• Instability
• Tendonitis
• Arthritis
• Fractures/Broken Bone
• Aging
Your Options for Ankle Pain
Dr. Rell's treatment approach is focused on preservation, quick recovery and safeguarding patients from permanent injuries. Because your options depend on the diagnosis and the root cause of pain, Dr. Rell will make a proper evaluation and give you expert advice on your specific treatment options.
Surgery is Not Always Necessary
Because foot and ankle pain has multiple etiologies, many problems can be treated with a conservative approach without surgery. Some of the common forms of conservative treatment are NSAIDs (anti-
inflammatory medications), compression, icing, physical therapy, corticosteroid injections, and activity modification, but there is also an alternative method that is helping numerous patients recover without surgery.
Stem Cells
Over the past several years, stem cell and PRP (Platelet Rich Plasma) therapy have become a recommended treatment option, due to their natural and proven effectiveness on various orthopedic conditions.
Because our bodies naturally produce stem cells, this treatment is not foreign to the cells, and the injury reacts positively to this method of healing. Our feet and ankles are constantly under wear and tear, which causes inflammation and injury to occur. Our own stem cells assist in the normal healing process, but when our stem cells are not enough (usually due to aging, or severe injuries needing more), Stem cells from other sources increase platelets in the blood, which travels to the injured area to increase healing. Stem cells are able to regenerate tissue growth, and signal repair to the damaged area.
Stems cell and PRP therapy are blood plasma and platelets aspirated from either the patient's tissues (from a prevalent well-nourished area), and then injected into the injured region under ultrasound-
guided imaging. However, if your own stem cells are limited, there are synthetic and donor versions that can be used just as effectively.
If You Do NEED SURGERY, You've Got Choices
There are traditional surgery and arthroscopic (minimally invasive) surgery options. The good news is if surgery is necessary, it can usually be performed arthroscopically. With Arthroscopic surgery there is generally no muscle detachment, and through a small incision, Dr. Rell will have access to the entire joint, or damaged area of your foot or ankle. With proper care and maintenance, long-term outcomes are equal to those of traditional surgery. With this minimally invasive technique, your recovery time is traditionally quicker and much less painful.
Dr. Brian C. Rell, DPM, FACFAS
Dr. Rell is an expert at alternative-regenerative medicine. He is able to preserve your tendons and ligaments, as well as part of your natural bones. The methods that he utilizes will allow quicker healing, better progress; and preserving bone will provide more natural foot and ankle functioning.
Dr. Rell is double board certified by the Board of Foot and Ankle Surgery and specializes in the treatment of all podiatric and orthopedic foot, ankle, and lower leg conditions. Dr. Rell graduated from Temple University School of Podiatric Medicine in 1999 and completed his reconstructive surgical residency at The Graduate Hospital in Philadelphia, where he served as chief resident. He has been in private practice in the Sarasota and Bradenton area for over 15 years.