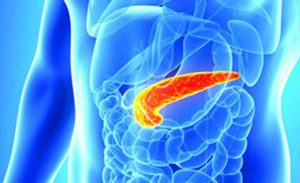 Located behind the stomach, the pancreas is a glandular organ about six inches long that has two major functions: to produce enzymes (digestive juices) that help in the
digestion process and to produce hormones, such as insulin, that help control blood sugar levels. The pancreas has an essential role in converting the food we eat into fuel.
Pancreatic cancer occurs when cells in the pancreas begin to grow out of control. One of the reasons pancreatic cancer is so deadly is that it is usually not detected until it is in the later stages. Early detection of pancreatic cancer is very difficult because the disease does not cause many signs or symptoms that are easily noticed in the early stages. Some of the more common symptoms of
pancreatic cancer include:
• Jaundice (yellowing of the skin and whites of the eyes)
• Light-colored stools
• Dark urine
• Weight loss for no reason
• Loss of appetite
• Feeling very tired
• Pain in the upper or middle abdomen and back
While these symptoms can be attributed to other causes, it is recommended that you consult your physician if you experience any of these indications.
The incidence of pancreatic cancer is relatively small; however, it is considered an extremely difficult cancer to successfully treat and potentially cure, primarily because it is often detected at a late stage. Because the pancreas is deep inside the body, early tumors usually can't be seen or felt during routine physical exams; plus, most people usually have no symptoms until the cancer has already spread to other organs. According to the American Cancer Society, factors that can affect the chance of recovery from pancreatic cancer include whether or not the tumor can be removed by surgery, the size of the tumor, whether or not it has spread outside the pancreas to nearby tissues, and the patient's general health.
RISK FACTORS
Almost all pancreatic patients are over the age of 45; in fact, the average is 71 at the time of diagnosis, as reported by the American Cancer Society. Men are at a slightly higher risk than women; however, it is speculated that this may be due to the fact that more men smoke than women.
African Americans are also at slightly more risk than Caucasians for reasons that are not clear, but may be due in part to other risk factors, such as a higher rate of diabetes.
Risk factors such as age, race and gender can't be changed; however, other risk factors can be lessened by lifestyle choices, such as not smoking and maintaining a healthy weight. Approximately 20% to 30% of pancreatic cancers are thought to be caused by cigarette smoking and the risk of having pancreatic cancer is twice as high for smokers compared to non-smokers.
Family history is another risk factor for pancreatic cancer. It is thought that about 10% of pancreatic
cancer is due to inherited genetic mutations. For people who may have a family history of pancreatic cancer, hereditary breast or ovarian cancer due to BRCA1 or BRCA2 gene mutation, or Lynch Syndrome (hereditary non-polyposis colorectal cancer), it is best to consult with your physician regarding genetic testing or endoscopic ultrasound.
IMPROVING TREATMENT
A variety of treatments are used in pancreatic cancer involving surgery, ablation, radiation therapy and
chemotherapy, to name a few. There are a number of clinical trials that seek to develop new treatments, including immunotherapy treatments. Immunotherapy drugs, which utilize the body's immune system to fight cancer, have worked against some of the most lethal cancers, such as melanoma and late-stage lung cancer.
Difficult to treat with conventional drugs, pancreatic cancer also has proven to be resistant to initial immunotherapy approaches. Pancreatic tumors are usually surrounded by a tough, fibrous capsule that is difficult for drugs to penetrate. This protective covering also wards off the immune system's T cells, which attack foreign intruders, such as cancer cells, within the body. However, researchers are continuing to test immunotherapy combinations and devising innovative strategies that they hope will bring greater understanding of how to effectively treat these tumors.
World-Class Cancer Treatment
Close to Home
Florida Cancer Specialists & Research Institute (FCS) has put together a network of expert, board-certified
physicians who bring world‐class cancer treatments to local communities, both large and small, across the state. With nearly 100 locations, FCS is the largest independent ncology/hematology
group in the United States. That status puts the practice on the leading edge of clinical trial research and gives FCS physicians access to the newest, most innovative treatments.
Florida Cancer Specialists treats patients with all types of cancer, and offers a number of services, such as an in-house specialty pharmacy, an in-house pathology lab and financial counselors at every location, that deliver the most advanced and personalized care in your local community.
Cape Coral Cay West
1708 Cape Coral Pkwy West, Suite 10
Cape Coral, FL 33914
Cape Coral Del Prado
811 Del Prado Blvd
Cape Coral, FL 33990
Fort Myers Colonial
8931 Colonial Center Drive, Suite 300
Fort Myers, FL 33905
Fort Myers Gladiolus
8260 Gladiolus Dr
Fort Myers, FL 33908