Journal of the American Medical Association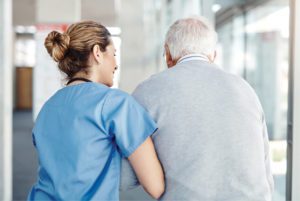 To improve patient care and avoid expensive Medicare penalties, healthcare has focused on minimizing unplanned hospital readmissions within 30 days. Age is one of the risk factors involved. Our older patients are almost 30% more likely to experience readmissions compared to patients younger than 65.1 Among older patients, a number of signs have long pointed to fall injuries as a possible factor in readmission rates. Falls rank as the number one cause of injury-related hospitalization in this group.2 Multiple studies have identified chronic illness, functional limitations, and cognitive impairment as risk factors in readmissions, and these issues have been separately identified as risk factors in fall injuries. However, until recently, the exact role of fall injuries in readmissions among older patients had not been measured.
In May, the Journal of the American Medical Association published the first broad study of this issue. Geoffrey Hoffman, PhD and colleagues retrospectively analyzed 8,382,074 hospital discharges of patients age 65+.3 As anticipated, they found fall injuries to be the third ranking cause for hospital readmissions in this age group. Among the subset of older patients with cognitive impairment, fall injuries rank as the number two cause of readmissions, beating out heart failure. This study highlights the heightened risk of fall injuries following a hospitalization and the opportunities to identify patients who will benefit from increased protection.
During periods of outpatient or community-based rehabilitation, doctors may consider recommending a home care aide from McKenney. Home care aides help with ambulation, transfers, dressing, and activities most associated with fall injuries (those in the bathroom and kitchen).4 Medicare home health benefits typically limit home health aides to two or three 30-minute visits per week, which leaves considerable risk unmanaged. The addition of private-duty home care from McKenney will allow for a more customized and comprehensive plan.
Most fall injuries occur at home,4 so care planners may also consider a recommendation for a home safety assessment. Home safety assessments with follow-up have been shown to reduce fall risk 39% – even as stand-alone interventions. 5 McKenney also offers private duty nursing for medication reconciliation and other health services that can moderate fall risk.
Finally, as our patients age, even the best rehabilitation programs will reverse fall risk enough for only a certain percentage of patients. For the rest, long-term care is indicated. McKenney Home Care makes long-term care a community-based option. When your elderly patients are discharging from the hospital, please consider McKenney Home Care.
McKenney Home Care in Naples, FL hosts a Lewy Body Dementia Support Group on the first Wednesday of every month.  This ongoing support group is approved by the Lewy Body Dementia Association in Atlanta and is in affiliation with the Parkinson's Association of SWFL and the Alzheimer's Support Network.
McKenney Home Care provides exceptional in-home health services and client-centered care. With a passion for maximizing the quality of life of their clients and their families, they are driven to ensure social engagement and specialty services during all stages of life.
For Individuals with neurodegenerative disorders, McKenney Home Care delivers enriched specialized training for its caregivers working with Dementia Patients. In addition to specialized videos and manuals, McKenney educates the caregivers through the use of the Virtual Alzheimer's App. This virtual reality experience helps caregivers understand the feelings and experience of those suffering from Alzheimer's and other forms of Dementia.
Along with their medical expertise, McKenney Home Care is a certified Music & Memory Agency. Providing help for Dementia Patients; this specialized music therapy program is highly personalized and has been shown to reduce the need for anti-anxiety and antipsychotic drugs by up to 50%, while brining joy to the lives of patients who have Dementia.
If you or someone you know would like more information about McKenney Home Care or the LBD Support Group, please call McKenney Home Care at 239-325-2273, or visit mckenneyhomecare.com.
McKenney Home Care
CALL US TODAY!
239-325-CARE (2273)
9655 Tamiami Trail North #201
Naples, FL 34108
References: 1. Hirayama A, Goto T, Faridi MK, Camargo Jr CA, Hasegawa K. Age-related differences in the rate and diagnosis of 30-day readmission after hospitalization for acute ischemic stroke. International Journal of Stroke. 2018 Oct;13(7):717-24. 2. Owens PL, Russo CA, Spector W, Mutter R. Emergency department visits for injurious falls among the elderly, 2006: statistical brief# 80. Agency for Health Care Policy and Research 2009. 3. Hoffman GJ, Liu H, Alexander NB, Tinetti M, Braun TM, Min LC. Posthospital fall injuries and 30-day readmissions in adults 65 years and older. JAMA Network Open. 2019 May 3;2(5):e194276-. 4. Stevens J, Haas E, Haileyesus T. Nonfatal bathroom injuries among persons aged ≥ 15years—United States. Journal of Safety Research. 2011 Aug 31; 42 (4): 311-5. 5. Clemson L, Mackenzie L, Ballinger C, Close JC, Cumming RG. Environmental interventions to prevent falls in community-dwelling older people: a meta-analysis of randomized trials. Journal of Aging and Health. 2008 Dec;20(8):954-71.