By Daniel I. Wasserman, M.D.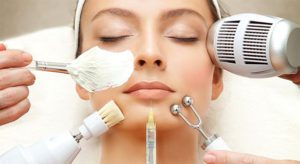 Why does it seem like everyone is getting a facial?  Facials are nothing more than some form of mechanical manipulation of the facial skin to improve its appearance.  The human desire to apply such methods to maintain and improve beauty were even used by the ancient Egyptians as far back as thousands of years ago.  Dermatology has been employing resurfacing methods for over 100 years now, but as the attention to beauty and aesthetic appearance has exploded over the last several decades, the role of the facial as a form of entry level
aesthetic procedure has gained prominence. 
 
All resurfacing procedures, including facials, injure the skin in a controlled fashion to a specific depth thereby promoting a specific amount of growth and improved skin quality.  Today, resurfacing of the skin is often achieved by three fundamental methods: mechanical, chemical 'peels', and lasers.  The latter two will be discussed in a future article.
 
Facials are often the least invasive, most superficial form of achieving a resurfacing injury. They are performed by licensed aestheticians who will use a menu of services that include, but are not limited to mild, superficial chemical peels, light-based rejuvenating procedures, pore extractions, microdermabrasion, or a combination of the above.  Under the guidance and supervision of a physician, many aestheticians may perform some more moderate invasive procedures such as intense-pulsed light treatments, ultrasound skin tight-ening procedures, or some device-directed body sculpting procedures.
An exciting new approach to skin rejuvenation is now using devices such as the HydraFacial which can employ several of the aforementioned services in one treatment to peel, cleanse, evenly exfoliate, and extract impurities and dead skin cells.  Additionally, HydraFacials can take advantage of the mild skin abrasion and injury inherently and safely caused by the treatment itself to then deliver and replenish the skin with vital nutrients, including antioxidants, peptides, and hyaluronic acid. The results are immediate, with no downtime.  Clients will notice improved hydration, minimized dark spots, and a reduction of fine lines and wrinkles. 
 
Facials are an excellent method to indulge in good aesthetic hygiene of the skin in a safe
and more affordable manner.  Compliant and consistent patients will often see continued benefits that can often be additive over time. 
It is important to note that the more advanced treatments such as lasers should be performed by a licensed medical provider. 
Call today to schedule your free consultation with our Medical Aesthetician, Charmaine DeFrance.
Dr. Wasserman is a board certified dermatologist with fellowship training at Harvard Medical School in laser and cosmetic surgery, as well as fellowship training in Mohs skin cancer surgery. He has contributed as a dermatology expert for online and print magazines. In addition, he frequently lectures to professional societies and organizations on his diverse research. For more information about skin care visit the Skin Wellness Physicians website at www.skinwellnessflorida.com
239.732.0044
www.SkinWellnessFiorida.com
EAST NAPLES:
8625 Collier Blvd.
DOWNTOWN NAPLES:
1300 Goodlette Road
MARCO ISLAND:
Marco Island Medical Center, 531 Bald Eagle Dr.