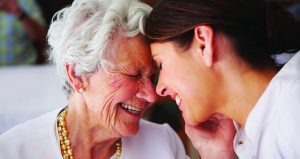 Starting the search for assisted living can be overwhelming.  Unfortunately, many people are faced with this daunting task in the midst of a crisis: a spouse breaks a hip, a parent develops dementia, a couple needs more assistance with care.  Where – and how – to begin?
Let's talk about assisted living facilities, or ALFs.  Did you know that there are 172 ALFs in Sarasota County alone?  These facilities range in size from one resident to several hundred and, as you might expect, the prices and quality vary greatly.  We love the size of our community, HarborChase of Sarasota.  With 60 apartments in assisted living and an additional 48 in memory care, it's big enough for a great mix of residents and activities, yet small enough to be homey.
Monthly rentals in ALFs usually include two or three meals a day, housekeeping, laundry, utilities, activities both on-site and outside, and scheduled transportation.  Levels of care are offered to provide assistance with activities of daily living (ADLs).  The six basic ADLs are eating, bathing, dressing, toileting, transferring and continence.   Care can be hands-on or in the form of reminders.  Our care partners at HarborChase are highly-trained professionals dedicated to helping our residents with all these services, while treating them with respect and dignity.
The State of Florida recognizes three levels of licensure in assisted living – standard, limited nursing services (LNS) and the highest level, extended congregate care (ECC). Each license is able to provide more services.  At HarborChase, we have nurses on site 24/7 and are proud to hold an ECC license, enabling us to help with oxygen administration, diabetic management, colostomy bags, suprapubic catheters, gastrostomy tube feedings, and other services that enable our residents to age in place.
Secured memory care can be a component of assisted living or skilled nursing.  It is a smaller, more hands-on environment focused on the specific needs of residents with all types of dementia.  We've designed our HarborChase memory care community, The Cove, to be bright and cheerful, with lots of social areas and outside gardens.  Assisted living memory care provides a much more home-like environment than that of skilled nursing.
Now that you know the basics of assisted living, let's talk about cost.  Many people ask if Medicare or Medicaid pays for all – or even part – of the cost of living in an ALF.  While Medicare will continue to cover many of the health care services you would receive at home, such as therapy and home health care, it does not cover your monthly living expenses.  And while some ALFs have a Medicaid license, only a small portion – about $1,100 – of that monthly expense is paid.
So who does pay for living in an ALF?  When you visit HarborChase, we explore all avenues with you, asking questions such as, "Do you have a long-term care insurance policy?" and "Are you or your spouse a veteran?"  We can provide answers and  resources based on our years of experience and expertise.
Keep in mind that costs will vary depending on the size of apartment and the level of care needed.  HarborChase offers four sizes of beautiful apartments.  Regardless of size, our apartments are equipped with full-size stainless-steel refrigerators, built-in kitchen pantries, granite countertops, and a huge walk-in shower.  The Cove memory care community has the option of companion or private studios, with care included.
Congratulations – you're an educated consumer!  Your next step is to visit nearby ALFs and see for yourself.  Don't wait for a crisis; take control and choose your future home now!
For more information about the services available at HarborChase of Sarasota, call 941-387-9070 today to schedule a tour of our community.