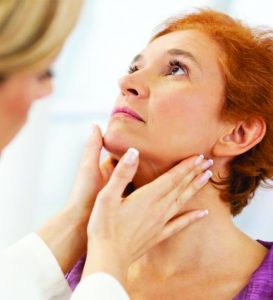 At Bayfront Health Medical Group, their providers, surgeons and staff live in the local community and remain committed to providing personalized care to each and every patient. With offices in Punta Gorda, Port Charlotte and North Port, you'll find the care of specialists in general surgery, vascular surgery, orthopedic surgery, cardiothoracic surgery, neurology, obstetrics and gynecology, psychiatry, and otolaryngology (ear, nose and throat).
One of those specialists is Maria Compton, D.O., board-certified otolaryngologist. She provides care for patients that suffer from disorders and diseases of the ear, nose, and throat (ENT). Dr. Compton has a particular interest in the diagnosis and treatment of head and neck cancers as well as sleep apnea.
Accomplished and sought after, she is trained in the surgical and non-surgical management and treatment of ENT diseases and disorders, as well as sinuses, mouth, and structures of the neck and face. She treats patients of all ages, from newborns to geriatrics. Dr. Compton received her undergraduate degree from William Jewell College in Liberty, Missouri, a medical degree from the Kansas City University of Medicine and Biosciences, and completed her residency training at Summa Western Reserve in Akron, Ohio.
Recently, we had the pleasure of speaking with Dr. Compton.
Q: What made you want to specialize in ENT?
A: I always was interested in surgery. ENT is great because it allows me to get to know my patients in the office and improve their quality of life with many of the surgeries that we do. It is also a field with a wide range of surgeries and disease processes, so we never get bored. We do everything from ear surgery, to sinuses, to head and neck cancer, to pediatric procedures.
Q: Along with your ENT services, you have a special interest in head and neck cancers. Can you tell us more about the advancements in diagnosing and treating these types of cancer?
A: We know that there are a growing number of head and neck cancers due to the HPV virus. We do screenings in the office with cameras to look in the throat and at the vocal cords. We work with the radiation and medical oncologists for treatment. Our surgeries have become less invasive and easier tolerated than in the past.
Q: There seems to be such a growing number of people diagnosed with thyroid cancer. Can you tell us what symptoms patients should be aware of?
A: Lumps and bumps in the neck should always be addressed. An adult with any neck or throat symptoms should see their primary doctor for an exam. Neck lumps and prolonged hoarseness are particularly worrisome. The primary doctors are good at ordering imaging and sending the patients on to a head and neck surgeon.
Q: What would you like to educate patients more about regarding their ENT health?
A: Protect their ears from loud noises. Don't smoke.
This year, an estimated 64,000 people will develop a head and neck cancer. Early detection is critical for the proper treatment and longevity. Maintaining regular physicals and check-ups is critical to eliminate your risks and fighting the disease states that may arise.
Dr. Compton Treats & Manages:
• Hoarseness and throat pain
• Facial pain, fractures, and trauma
• Hearing loss
• Sleeping difficulty and snoring
• Ear pain
• Tongue tie
• Nasal obstruction
• Neck lumps and bumps
• Difficulty swallowing
• Head and neck skin lesions
• Thyroid masses
If you or someone you know has any ENT concerns, please call 941-833-1777 to schedule an appointment. Same day appointments are often available. For more information on Bayfront Health Medical Center, please visit, BayfrontHealthMedGroup.com.