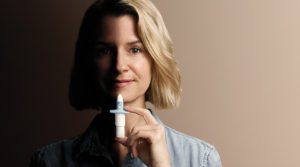 Approximately 1/3 of those suffering from the Brain Disease of Depression will not effectively respond to traditional antidepressants and will be referred to as having a Treatment Resistant Depression. These patients have not responded to medications that have embraced the monoamine system's approach using TCAs, SSRIs, SNRIs, MAOIs, atypicals and second-generation antipsychotics. An alternative explanation of depression has come forth involving the inhibition of NMDA receptors and the release of Glutamate. The result has been an increased relief from depression, especially those with TRD. Thanks to the Janssen Company we welcome SPRAVATO™ to lead the way.
Partners in Treatment
Recently, the FDA has approved a nasal infusion system known as SPRAVATO™. This is an enantiomer of ketamine and has a powerful effect in lysing the symptoms of depression. In addition to its chemical composition, SPRAVATO™ utilizes a unique Patient Centric process that forms a supportive relationship with our patients. This adds a sense of humanity to the treatment of depression.
SPRAVATO™ is supplied in a nasal infusion system. The patient and the providing physician will join into a treatment partnership for this journey to health. First of all, the physician's office must be certified by the Janssen Company as REMS compliant. This means that it has shown it to be a Risk Evaluation and Mitigating Strategy certified facility. This assures that the patient is well cared for. Once the patient is evaluated, this unique relationship begins.
When the patient enters the office, he/she is greeted by a healthcare provider who takes their vital signs and reviews what is about to take place. They are then instructed how to use the nasal administration system with a demonstration model. They are then guided as they learn to administer the medication in a safe and effective fashion. They are then monitored for the next two hours making sure that there are no adverse effects and that their vital signs are all in the normal range.
Once stable, and two hours have passed, they are permitted to go home with the support of a friend or family member. They will be followed telephonically over the next two hours. They are indeed partners in treatment.
Theoretically, the above treatment creates new connections in the brain. These newly developing dendrites or neurological connections help the brain to send signals to other parts of the brain restoring the neuroplasticity and neurogenesis that the depression has adversely affected. The effects are often notable within hours and the results are long-lasting.
SPRAVATO™ is a prescription medicine, used along with an antidepressant taken by mouth for treatment-resistant depression (TRD) in adults. SPRAVATO™ is not for use as a medicine to prevent or relieve pain (anesthetic). It is not known if SPRAVATO™ is safe and effective in children.
PASWFL
We at Psychiatric Associates of Southwest Florida have prided ourselves in having embraced and used the newest technologies to better care for our patients.
We look forward to continuing to serve SW Florida in a compassionate and technologically sound manner.
About Dr. Robert Pollack
Robert W. Pollack, M.D. CEO is a Florida-licensed Board-Certified Psychiatrist. He has been in practice since 1977 and has served the public in many capacities. The American Psychiatric Association Board of Trustees, January 1, 2015, has granted him Life Fellow status.
At PASWFL, appointments are scheduled quickly, within one week of your call. For more information on SPRAVATO™ please visit his website at paswfl.com, or for more details about the office, call 239-332-4700.
6804 Porto Fino Cir #1, Fort Myers, FL 33912
Office: 239-332-4700