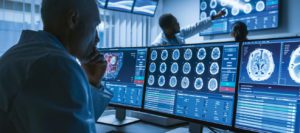 Marat Grigorov, D.O., neurosurgeon, has joined Bayfront Health Medical Group and is currently seeing patients at 713 E.
Marion Ave., Ste. 147, Punta Gorda. He treats all spectrums of spine and brain disorders and holds a special interest in the diagnosis and treatment of spinal conditions.
Many people believe that neurosurgeons are only concerned with the prevention, diagnosis, surgical treatment, and rehabilitation of disorders of the brain; however, neurosurgeons are also spine specialists in a very intricate manner resulting from their specialized training in dealing with the delicate interior of the spinal column.
We caught up with Dr. Grigorov to discuss his goals as a neurosurgeon within Bayfront Health's team and his expertise in spinal surgery.
Q: As a neurosurgeon, in addition to treating disorders of the brain, what else do you specialize in?
A: Along with brain and peripheral conditions, I treat patients with degenerative spinal disease, trauma, cervical and lumbar disorders.
Q: Why should a patient see a neurosurgeon for specific conditions of the spine?
A: With Neurosurgery, we are trained to treat conditions that are both extradural, outside the spine, and intradural, those inside the lining of the spinal canal. Examples of extradural spinal issues include scoliosis, fusions, herniations, and fractures. Intradural disorders are issues like spinal cord tumors, syringomyelia (fluid-filled cysts), tethered cords, disc replacements, spinal taps for diagnosis, and many other conditions.
Q: What types of treatment options do you provide your patients?
A: I generally will start with non-surgical pain management treatment options. This may include variations of physical and occupational therapy, exercise, and injections or medication. If my patient does not find relief after a course of non-surgical treatment, then we discuss surgical intervention. I perform both open and minimally invasive surgical techniques. I carry out my surgeries with guided, navigational techniques, which allow me to see inside the spine via a computer-guided software for accurate, precise treatment, and placement of any implantable devices that might be necessary.
Q: What would you like patients to know about your expertise?
A: I've been treating individuals with debilitating conditions that have plagued them for years, and once these patients seek treatment, the impact is immediately life-changing. Many patients ignore their symptoms for long periods of time or have tried other options like physical therapy, injections, lasers, etc., that have failed them. If a patient has been suffering from spinal cord compression, ambulation issues, bowel or bladder disorders, peripheral tingling or numbness, and their symptoms have not improved, they should make an appointment with a neurosurgeon to better understand their options and to finally get the relief we can offer them.
About Bayfront Health Medical Group
Bayfront Health Medical Group's providers, surgeons and staff live in the local community and remain committed to providing personalized care to each and every patient. They understand that any procedure or consultation can be a stressful event in your life, so their team is dedicated to minimizing that stress. They will meet with you and your family to explain procedures, review alternatives, recommend treatment plans, discuss associated risks and benefits and answer all of your questions. With offices in Punta Gorda, Port Charlotte, Arcadia and North Port, you'll find the care of specialists in general surgery, vascular surgery, cardiac surgery, orthopedic surgery, neurology, neurosurgery, obstetrics and gynecology, psychiatry, family medicine, primary care, pediatrics and ear, nose and throat specialists. Bayfront Health Medical Group is affiliated with Bayfront Health Port Charlotte and Bayfront Health Punta Gorda, Joint Commission Accredited hospitals part of a regional network of seven hospitals along the I-75 corridor.
Dr. Marat Grigorov is accepting new patients and most often can see them same-day. To schedule an appointment, call 941-613-3800. For more information, visit www.BayfrontMedicalGroup.com.
Marat Grigorov, D.O.
Dr. Grigorov is an experienced neurosurgeon qualified in the treatment of diseases associated with the brain, spinal cord and peripheral nerves, including pinched nerves, herniated discs, brain tumors, complex cervical spine, and lumbar disorders, and degenerative diseases of the spine. He earned his Doctor of Osteopathic Medicine from Lake Erie College of Osteopathic Medicine in Erie, Pennsylvania. Dr. Grigorov completed a surgical internship at Portsmouth Naval Hospital in Portsmouth, Virginia, and neurosurgery residency at Advocate Health Medical Center in Normal, Illinois. Dr. Grigorov is fluent in English and Russian.
Bayfront Health Medical Group
www.BayfrontMedicalGroup.com