By William Bambrick, The Springs at South Biscayne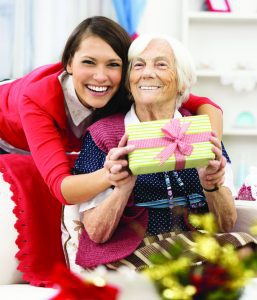 It's that time of year again. Time when the summer days are long since passed, and the falling leaves are making way to a cold and gray winter season. And for about two percent of the population, seasonal depression comes knocking at the door.
Known as Seasonal Affective Disorder (SAD), which is the increased presence of depressive symptoms during the winter months — a condition very common in older adults. The decreased light and increased cold of winter can impair the ailment. And it's more than just the "blues". SAD is recognized as a subtype of major depressive disorder that has similar symptoms as major depression. Caregivers should keep a watchful eye for key indicators of SAD in their senior loved ones during the winter months, including sadness, loss of interests, changes in sleep and appetite, feelings of hopelessness, weight loss, anxiety, fatigue, hypersensitivity and more. Regardless, SAD doesn't hand pick its hosts, but commonly is misdiagnosed or undertreated.
According to the Centers for Disease Control and Prevention reports, the elderly are at a higher risk of developing seasonal depression. Other chronic health conditions increase the chances of developing a depressive disorder, and as much as 80 percent of the elderly population in the United States have a chronic health condition. Seniors who require home care or hospital stays to treat their illnesses are at an even greater risk.
SAD can lead to depressive symptoms in seniors who are not diagnosed with chronic depression. Not everyone who experiences SAD is clinically depressed, but it can increase the effects of those who do live with chronic depression.
Because depression — including SAD — can be a serious mental health issue, anyone experiencing symptoms may need to be referred to a psychologist for treatment recommendations. Here are other ways to treat SAD.
• Natural Sunlight is the key to alleviating some of the classic symptoms of SAD. Sunlight is far more beneficial for body rhythms than indoor lighting.
• Light Box Therapy (the daily exposure to bright artificial light when symptomatic) provides a special, full-spectrum light, with ultraviolet rays filtered out. Light therapy should be initiated at the onset of symptoms and used daily until spring or until symptoms resolve naturally. For seniors, especially those with dementia, proper supervision is a recommended safety precaution.
• Cognitive Behavioral Therapy (CBT) is where a person with SAD works with a therapist to learn how to identify and schedule engaging activities throughout the winter, and how to recognize negative thoughts, which gives him or her tools to manage moods. Awareness of these coping techniques can help the onset of depression each year. Activities such as meditation, tai chi and yoga can help to combat depression, as well as aromatherapy or massage. A bright, sunny environment also adds to the pleasure and effectiveness of chasing the blues away.
• Dietary Supplements also can help turn the "mood" corner. Melatonin can help regulate mood. Omega-3 fatty acid also can fight depression. Of course, before adding supplements to your daily regimen, talk with a healthcare provider.
By identifying SAD, speaking with a physician about the various options for treatment and instituting a plan of action, you can help yourself or someone you know shut the door to the seasonal blues.
The Springs at South Biscayne is an exceptional assisted living, memory support and short-term respite care community in North Port, Florida – and a resource for seniors and their families on lifelong learning and physical, intellectual, social and spiritual enrichment. Residents enjoy the convenience of all-day dining, a unique holistic wellness program, and customized, on-site health services 24 hours a day, 7 days a week. Plus, the financial flexibility and peace of mind that comes from all-inclusive rates, no entry fees and a month-to-month rental structure. To learn more about the lifestyle at The Springs, visit www.TheSpringsAtSouthBiscayne.com.