By Justin Ceravolo, PharmD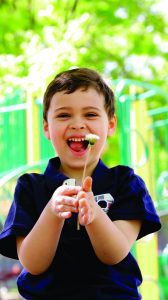 Administering medicine to children can be difficult at the best of times, and even more so for the 1 in 68 children in the United States, who the CDC notes have been identified with autism spectrum disorder (ASD). Younger patients can be particularly finicky about medication color, texture and flavor, and often times cannot or will not swallow tablets or capsules. Physicians and pediatricians treating children with autism have also noted a spike in parents wanting to discuss the obstacles presented to them when administering medication to their children.
This is of serious concern because many children affected by autism face unique physical or psychological challenges that can be exacerbated by ingredients found in certain foods and medicine. Common sensitivities include casein, soy, sugars, gluten, dyes, carbohydrates, and heavy metals (such as aluminum).
It is very important for parents and practitioners working with children with autism to manage ingredients within diets and medications. If not, exposure to these culprits can prompt reactions such as hyperactivity, irritability, depression and acting-out, or serious gastrointestinal problems.
Not surprisingly then, such a scope of ingredient triggers can mean that commercially available medications are not always viable options for all children with autism. Nor do they always provide the appropriate dosage forms or ingredients needed. In such cases, compounded medications are a critical tool for these children. And that's where Cypress Pharmacy can help.
Using custom medication compounding, which is both an art and a science, pharmacists work closely with a caring pediatrician to prepare personal, customized medications. By developing medication that is colorful, pleasantly flavored, available in individualized dosage strengths and forms, and safely contained in childproof dispensers, medication time can be a breeze. Offering compounded medications in different dosage forms and flavors is important because it is often the only way to administer key ingredients such as melatonin, amino acid and vitamin mixtures that are crucial in managing autism.
As an affiliated PCCA (Professional Compounding Centers of America) pharmacy, Cypress Pharmacy offers several products that benefit the autism community, including:
• SuspendIt®: A suspension base for oral medications that is free of ingredients known to cause reactions in autistic children.
• Anhydrous Lipoderm®: A quick-absorbing cream used to deliver medications transdermally. It does not use aluminum silicate – a common binding agent.
Cypress Pharmacy can also prepare many medications in different delivery methods, such as creams, ointments, troches, suppositories, capsules, suspensions, lollipops and nasal sprays. Thanks to this contemporary technique, medication time can be much easier and less stressful, for children with autism and their caregivers.
Cypress Pharmacy has been providing pharmaceutical and healthcare services in Fort Myers for more than 40 years. The entire staff, including pharmacists T.J. DePaola and Justin Ceravolo, are dedicated to providing the best possible service to every customer. For more information, call 239-481-7322 or visit www.cypresspharmacy.com.