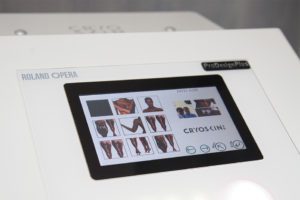 Chances are you've recently heard about Whole Body Cryotherapy(WBC) from a magazine, social media site, or a professional athlete. It's rising popularity over the last few years is the product of the impressive results it has been generating.
In WBC, a cylindrical chamber similar to a sauna is cooled to negative temperatures using cold nitrogen gas. Nitrogen is a natural non-toxic gas. After the patient enters the cooled chamber, their skin is cooled by 40-50 degrees within minutes. This rapid cooling of the skin initiates the brain to send the body into "survival mode". This phenomenon causes dense amounts of oxygen to permeate the blood, creating an anti-inflammatory effect. The oxygen enriched blood then causes a spike in endorphin and protein production to facilitate natural muscle and joint pain relief. Additionally, for the body to maintain its internal temperature, metabolic rate will have to rise. This means the patient can see up to a 500 calorie burn per session.
While a significant calorie burn is a product of WBC, weight loss is not the primary goal. If fat loss is your goal, however, there's a new breakthrough in cold therapy technology developed just for that purpose. It's called Cryoskin, and it has been receiving a lot of attention for its efficiency at reducing fat and cellulite. The treatment uses a ceramic platted wand which emits negative temperatures over targeted problem areas. There are two treatment options available: slimming and toning.
The slimming treatment freezes and destroys fat cells which will be naturally expelled through the body's lymphatic system. This is the perfect option for client's who follow a healthy diet and exercise plan, yet still have stubborn areas of fat. The toning treatment increases microcirculation and collagen production which reduces cellulite. This treatment option for anyone looking to firm and smooth skin surface. One of the first questions asked about both procedures is "will it hurt". Much to the patient's relief, it is a pain free, 30-minute session that utilizes a relaxing massage technique.
Looking for a trusted location that offers Cryoskin? CryoXL of Sarasota is the premier cryotherapy center of south/central Florida. With board certified physicians, nurses, and paramedics on staff, CryoXL is not only result driven, but puts client safety above all else. So whether you're looking to lose inches or tone up, Cryoskin at CryoXL is a must.
CryoXL – Whole Body Cryotherapy
Located inside of Hydr8 – Wellness Centers
1800 South Tuttle Avenue | Sarasota, FL 34239 | (941) 870-4366