HOW LIGHT TREATMENTS CAN OFFER MUCH NEEDED RELIEF
J. Gregory Neily, DO
Board Certified Dermatologist, Mohs Micrographic Surgeon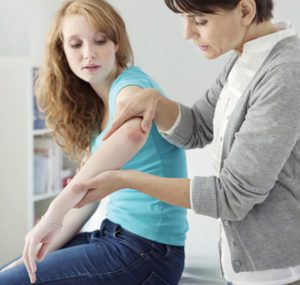 One of the most common skin diseases that we see at our office is Psoriasis. This is not surprising as nearly 7.5 million Americans are affected, according to the National Psoriasis Foundation. Chances are you or a member of your family are affected, and know that it can be however many of us still do not know much about the complexity of this disease and how to effectively treat it. Psoriasis are raised, scaly, and red patches of skin most commonly found on the elbows, hands, scalp and feet. Psoriasis is more than just a skin condition, such as eczema, which it is often mistaken for. It is actually an autoimmune disease that can cause serious related conditions such as cardiac disease, depression, diabetes and Crohn's Disease.
IS IT REALLY PSORIASIS?
Eczema and psoriasis on the surface can look very similar. If you find a scaly rash in the areas mentioned, the best way to diagnose is to go to a Board Certified Dermatologist who specializes in treating this skin disease. After examination, they may additionally take a small biopsy and examine under a microscope to determine the diagnosis.
HOW PHOTOTHERAPY WORKS
Many patients can successfully be treated with use of oral or topical medications. For ones that are not responding to such treatments, light therapy is a great option. These treatments are pain-free and appointments are quick.
Light Box Therapy
A phototherapy light box allows the affected area to be exposed to either UVA or UVB light for a limited amount of time and strength as determined by your Dermatologist. There are boxes that are smaller, exposing only the hands and/or feet and full body units that are extremely effective for patients with widespread psoriasis. Treatment is then issued, usually lasting 3-5 minutes. The effectiveness of this treatment can usually be determined within 15 treatments. If I am seeing a good response, treatments may continue up to 30 or more before symptoms are relieved.
XTRAC Laser Therapy
This laser uses Ultraviolet B light rather than A. It has a remarkable success rate and although it meant to treat smaller, focused areas, almost all patients suffering from plaque psoriasis are candidates. Time under the laser is a bit longer than PUVA, averaging about 20 minutes. I recommend a twice a week session for a approximately 4-8 weeks.
Psoriasis can not only be physically debilitating if not treated, it can take a toll emotionally. Although there is no known cure, the treatment options are many to bring long lasting relief. These options are covered under most major medical insurances. If you or someone you love is suffering from psoriasis, be sure to contact a Board Certified Dermatologist and ask if they offer these life-changing treatments.
Dr.Neily's practice, Coast Dermatology & Skin Cancer Center, offers a complimentary skin consultation with their experienced esthetician to evaluate and determine your skin care product needs. Please call 941-493-7400 to schedule an appointment.
J. Gregory Neily, DO
Dr. Neily is a Board Certified Dermatologist and Mohs Micrographic Surgeon and has been a practicing physician for nearly 30 years. After graduating from Florida State University he received his medical degree from Southeastern University of Health Sciences in Miami, Florida with his dermatology residency training at Western University of Health Sciences in Los Angeles, California.
In 2002, he opened Coast Dermatology and Skin Cancer Center in Venice, Florida to offer Southwest Florida residents the highest level of professional care in an environment that is welcoming and respectful of each patient he treats. He is joined by providers, Amy Murphy, P.A.C.-MMS and Ryan Beadle, P.A.C. Coast Dermatology specializes in diseases of the skin, skin cancer and Mohs Micrographic Surgery as well as cosmetic dermatology.
Coast Dermatology & Skin Cancer Center
21550 Angela Lane, Venice, FL 34293
(941)-493-7400