Be Aware of the Risks Associated with Knee Replacement Surgery
By Physicians Rehabilitation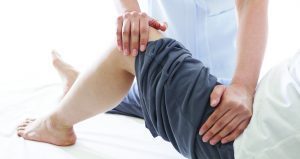 As with any surgery, knee replacement surgery carries risks. There is a chance with knee replacement surgery to experience the following post-surgical complications:
. Infection
. Blood clots in the leg vein or lungs
. Heart attack
. Stroke
. Nerve damage
. Allergic reactions to anesthesia
. Post-surgical pain
Another risk of knee replacement surgery is failure of the artificial joint. With daily use, even the strongest metal and plastic parts eventually wear out. Joint failure risk is higher if you stress the joint with high-impact activities or excessive weight.
Even if you have tried all other non-surgical treatment methods and your pain continues to limit your activities, viscosupplementation may be an option
In this procedure, a gel-like fluid called hyaluronic acid is injected into the knee joint. Hyaluronic acid is a naturally occurring substance found in the synovial fluid surrounding joints. It acts as a lubricant to enable bones to move smoothly over each other and as a shock absorber for joint loads.
People with osteoarthritis have a lower-than-normal concentration of hyaluronic acid in their joints. The theory is that adding hyaluronic acid to the arthritic joint will facilitate movement and reduce pain.
Our In-Office Knee Pain Protocol is designed to specifically target your knee arthritis pain to reduce symptoms and improve functionality.
Did you know that our knee protocol is covered by most insurances?
Call today to schedule a no-cost consultation for your knee!
Take Action, Get Help.
At Physicians Rehabilitation, we provide our patients with highly specialized interventional pain management treatment options. This minimizes the need for oral pain medication and maximizes function. Whether you believe your pain is in just one area or is affecting a variety of areas, our goal is to help you achieve a more active pain-free lifestyle! 7 locations serving Florida, call (855) 276-5989 today!
Physicians Rehabilitation
6150 Diamond Centre Ct., Bldg 100, Ft. Myers FL 33912
855-276-5989 | www.PhysiciansRehab.com