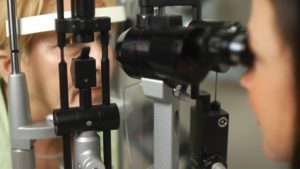 Some eye conditions may not feature any notable symptoms until they reach more advanced stages, when floating spots and blurred vision become apparent. Therefore, it is essential for you to care for the health of your eyes before signs of vision loss occur. Regular eye examinations can help you keep minor problems minor.
November is Diabetic Eye Disease Awareness Month, serving as a timely reminder of why an eye exam is particularly important following a diabetes diagnosis. The Centers for Disease Control and Prevention (CDC) says about 90% of vision loss from diabetes can be prevented, but studies show that 60% of diabetics are not getting the exams recommended.
According to the American Academy of Ophthalmology, people with diabetes are 25 times more likely to lose vision than those who are not diabetic, and risk for many issues increases the longer you have diabetes. Individuals with diabetes are at risk for developing:
• Diabetic retinopathy – Decreased vision when blood-sugar levels damage blood vessels within the retina
• Diabetic macular edema – An accumulation of fluid in the macula, caused by diabetic retinopathy, that can result in significant vision loss
• Cataracts – Clouding of the lens as a result of excess blood sugar from diabetes
• Glaucoma – Having diabetes increases your risk of getting certain types of glaucoma, a disease of the optic nerve that can lead to vision loss and even blindness
• Prescription changes – Eyeglass or contact prescriptions can change with diabetes
The National Eye Institute reports that diabetic retinopathy affects 40% to 45% of Americans diagnosed with diabetes, yet only half of these individuals are aware of their condition.
"We have seen individuals that have modified their diet and are mindful of their blood-sugar levels, but simply don't realize how this condition is impacting their eyesight," said Dr. Trevor Elmquist, founder of Elmquist Eye Group.
For individuals with diabetes or at risk of developing diabetes, having a dilated eye exam each year is vital to extend and protect their eye health. Regular eye exams provide ophthalmologists and optometrists an opportunity to monitor and detect developing eye conditions before vision loss occurs.
Those with Type 1 diabetes are encouraged to have an eye exam within the first five years of diagnosis and every year following the initial exam. For those recently diagnosed with Type 2 diabetes, it is important to schedule an eye exam right away and be reevaluated each year. Women with diabetes who are pregnant or planning to get pregnant should be examined within the first three months of pregnancy, as well as after the baby is born.
In early stages, diabetic eye issues often have no indicators. Over time, symptoms gradually worsen and can eventually lead to partial or total vision loss. Trained ophthalmologists and optometrists can take an in-depth look inside your eye to investigate for any diabetic complications and diagnose more subtle forms of vision loss or other serious health conditions related to the eye. See your eye care professional right away if you experience:
• Blurry vision
• Floaters or bright flashes of light
• Partial or total vision loss
• Cloudy vision
• Poor color vision
"Substantial vision loss can be avoided if these conditions are detected and treated in a timely manner, so individuals with diabetes shouldn't wait to make an appointment concerning their eyes," Elmquist adds. "Subtle changes in vision can easily go unnoticed throughout the course of our daily lives."
Blood sugar control and early detection and diagnosis are most important in preventing loss of vision. Elmquist Eye Group performs a thorough retinal exam with dilation of the pupils to check for any diabetic complications including diabetic retinopathy, diabetic macular edema, cataracts and glaucoma. Diabetic retinopathy can be treated with lasers, injections and sometimes surgery.
Choose to be proactive in maintaining the overall health of your eyes. Schedule a dilated eye exam today with Elmquist Eye Group's team of highly skilled associates.
If you have concerns about your vision, it is important to speak to a doctor to discuss treatment options. With more than 25 years of service to the Southwest Florida community, Elmquist Eye Group offers experienced doctors who are dedicated to patient care. Dr. E. Trevor Elmquist, Dr. Kate Wagner, Dr. Sarah Eccles-Brown and Dr. Nina Burt of Elmquist Eye Group are available to answer your questions. With three U.S. military veterans leading the practice, rest assured knowing that Elmquist Eye Group's team stands ready to serve you with knowledge and experience right here in Southwest Florida.
For more information, visit www.Elmquist.com, call 239-936-2020 or stop by an Optical Boutique location in Fort Myers or Cape Coral.
FORT MYERS
7970 Summerlin Lakes Drive
CAPE CORAL
2336 Surfside Blvd., Suite 121