By Dr.Brian C. Rell, DPM, FACFAS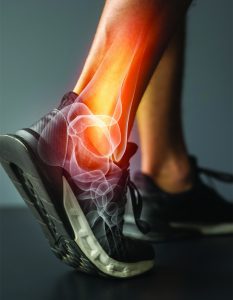 Each day, a great deal of pressure is placed on your feet and ankles. The average person walks between 7,500 to 10,000 steps per day, and the force placed on your lower extremities with every step is two to three times your body weight. In this intricate body part, many things can cause foot and ankle pain. And if you've ever personally experienced it, you know that there is little else you can concentrate on.
Do you have lingering discomfort?
One of the most painful, but common disorders of the ankles is arthritis. Osteoarthritis is one of the ten most disabling diseases in developed countries (WHO 2012). The are varying forms of symptomatic arthritis, from moderate to severe. It is estimated by the year 2030, 72 million Americans will be at high risk for osteoarthritis.
In today's world, people are more active, and while that's incredibly important for our overall health, wear and tear of the joints have become commonplace. As the general population wants to continue their favorite activities like playing sports, jogging, and dancing with the same level of intensity as they are accustomed to, many of them will require joint replacements.
Total Ankle Arthroplasty (TAA)
Ankle arthritis causes "bone on bone" friction; this eventually leads to loss of cartilage, limited range-
of-motion, deformity and total loss of function. When ankle replacements are needed, your surgeon will prepare you for what to expect before, during, and after your full recovery.
The procedure involves replacing the end of the tibia (shin bone) and the talus (lower bone of the ankle) with titanium prosthetics and placing a layer of plastic in between to serve as the cartilage.
Who is a good candidate for TAA?
• Prior injury or trauma to ankle
• Extensive arthritis
• Family history
• Ankle and extremity infections
Dr. Brian C. Rell, DPM, FACFAS
If you are a candidate for a total ankle implant, with Dr. Rell's technique, he will be able to preserve your tendons and ligaments, as well as part of your natural bones. This method will allow quicker healing, better progress; and preserving bone will provide more natural ankle functioning.
Dr. Rell is double board certified by the Board of Foot and Ankle Surgery and specializes in the treatment of all podiatric and orthopedic foot, ankle, and lower leg conditions. Dr. Rell graduated from Temple University School of Podiatric Medicine in 1999 and completed his reconstructive surgical residency at The Graduate Hospital in Philadelphia, where he served as chief resident. He has been in private practice in the Sarasota and Bradenton area for over 15 years.
Southwest Foot Ankle
941.256.3873 | www.swfafl.com