Pure Heart In-Home Services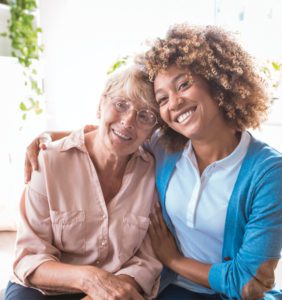 Warning Signs that a Senior Could
Benefit from Assistance
Aging can be challenging not only relating to our health but also our ability to perform daily tasks and to live the life we deserve. When we're younger, we often take for granted the ability to easily button a shirt without arthritic fingers or the capacity to walk safely from the bathroom to the living room without tripping over an area rug and getting hurt.
#1 Difficulty with Daily Tasks
When it becomes challenging to complete essential tasks like driving to the grocery store, shopping, or preparing meals, seniors may need help at home. It's not uncommon for older individuals to forget to eat or drink, and they can quickly become malnourished or dehydrated. They may also need help with bathing or getting around the house safely, which necessitates additional outside help.
#2 Driving
As seniors age, they may find it intimidating to drive in heavy traffic, or they may be apprehensive about their reaction times. At times, it's essential to drive or find a way to shop, pick up medications, or visit the doctor; when seniors are unable to drive safely, this is a definitive sign that they need help with chores and errands or getting to an appointment safely.
# 3 Social Activity
Many older individuals may become uncomfortable and begin to pull back from social activities that they used to love. This often happens because they feel embarrassed about being forgetful, or they become nervous in social situations due to feelings of inadequacy. It's vital to maintain socializing, so in-home services will give them something to look forward to as they can talk with their private duty assistant while they are helping in other ways around the home.
#4 Medication Management
Seniors often find it confusing to sort through all of their medication and to remember which pills they should take at what times. Having someone there to help them keep things organized and to make certain they take the right medication at the right time is essential.
Pure Heart In-Home Services
Pure Heart In-Home Services is a SWFL based, trusted non-medical provider. Serving Lee, Charlotte, DeSoto, Hendry and Collier Counties, We specialize in care and daily living assistance to an array of individuals. Whether you need daily or weekly assistance, our care givers will provide an individualized service that fit your needs in the comfort of your own home.
We have experienced, licensed staff who are passionate about giving genuine care to our clients. Through our extensive screening process, we assure that our caregivers are in line with our core values. We always make sure to give our clients the best possible quality of home care services through our highly trained and experienced team.
Who We Are
Lakeyatta Hayward, MSW
Lakeyatta is a native Ft. Myers, FL. She received both her Bachelor's and Master's degree in Social Work. She has six years of experience working with the elderly. She also received certifications as a home health aide, in CPR and as a Family Self-Sufficiency Coordinator. She's a devoted Christian, and mother. Lakeyatta ensures that Pure Heart In-Home Services will provide a level of care that ensure customer satisfaction. The care will be identical to the quality service provided to her beloved grandmother.
Camesha Young
Camesha is a Native of Ft. Myers, FL. She has five years' experience as a caregiver. She is certified with the Dept. of Children and Families in childcare. She also received certifications in CPR and first Aid, along with certifications in Dementia. She is a Christian and a mother of 3. Her passion is and has always been helping others. We at Pure Heart In-Home Services will give you and your family the security of knowing that they are in the best care.
For more information, please call (239) 202-3547 or (239) 200-0344. Email us at: Healthcare@pureheartinhomeservices.com
Pure Heart In-Home Services
13410 Parker Commons Blvd. Suite 105 S.
Fort Myers, FL 33912
(239) 202-3547 or (239) 200-0344
pureheartinhomeservices.com