The Varian® EdgeTM radiosurgery system, the most advanced radiosurgery technology available
More Advanced Care Means More Treatment Options | 21st Century Oncology Installs New Edge® Radiosurgery System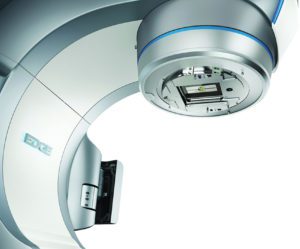 We're excited to announce the installation of the Edge – an advanced radiosurgery system that allows us to treat cancer patients with greater accuracy, efficiency and flexibility, while helping to cut down on the time they spend in treatment.
It also allows us to treat more types of cancers while providing more treatment options for patients who may not have been considered for radiation therapy or radiosurgery.
For over 30 years, 21st Century Oncology has been dedicated to providing world-class care, breakthrough research and cutting-edge technology close to home.
EDGE® RADIOSURGERY SYSTEM
Radiosurgery is a procedure that uses sophisticated technology to ablate tumors or other abnormalities with precisely delivered, non-invasive, high-dose radiation, while minimizing the exposure to surrounding healthy tissue.
The Edge radiosurgery system is the latest evolution in the way advanced radiosurgery is delivered. Because of the speed, precision and streamlined treatment planning, the Edge
provides full-body radiosurgery treatments with accuracy, efficiency and promptness to tumors of the lung, brain, spine and other areas of the body where radiation is needed.
Radiosurgery treatments using the Edge system are helping to expand the options available to treat a wide variety of benign, malignant, metastatic and non-oncologic targets throughout the body.
BENEFITS OF EDGE RADIOSURGERY SYSTEM
• High-level accuracy so treatments can be delivered with confidence
• Performs accuracy checks every 10 milliseconds
• Continually tracks patient movements and adapts treatments as the target moves,  potentially decreasing the risks of unwanted dose to surrounding healthy tissues
• Clinicians may deliver precisely-sculpted 3D dose distribution to single lesions or multiple mets for stereotactic ablation of inoperable and high-risk operable tumors
• Leverages the highest dose rate available, 2400 MU/minute, for fast, accurate delivery, minimizing the amount of time spent being treated
Stereotactic Body Radiation Therapy (SBRT) treatments:
• Spine
• Lung
• Liver
• Pancreas
• Prostate
Intracranial SRS Treatments:
• Single and multiple brain metastases
• Acoustic neuroma, meningioma, pituitary adenoma
• Glioblastoma (GBM)
• Arteriovenous malformation (AVM)
• Trigeminal neuralgia
To learn more about the Edge system or to see if you are a good candidate for this type of treatment, your 21st Century Radiation Oncologist is always ready to answer any questions and provide any support you may need.
21st Century Oncology
239-772-3202 | www.21co.com