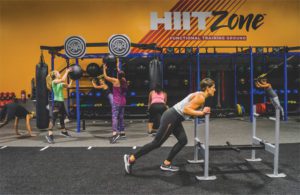 HIIT TRAINING
High Intensity Interval Training (HIIT) was on the list of trends in 2018 with classes popping up all over the country. In 2019, HIIT will continue to be popular as we start to see HIIT hybrid classes hit the fitness scene. Think beyond just running and cycling, HIIT will start to blend with yoga, barre and other boutique fitness classes.
In addition to blended HIIT classes, the length of each class will start to diminish as compact HIIT classes will be offered. As people get busier in their everyday lives, more efficient and effective HIIT classes that only take about 30 minutes will take over in 2019.
GROUP TRAINING
Group training has been on the list of fitness trends in the past, but this year it is expected to be more popular than ever. It's a great way to meet like-minded people who will help you stay motivated well into the New Year. Plus, group training classes offer a variety of different options like kickboxing, Zumba, yoga, barre or pretty much anything that suits your mood.
RECOVERY
Foam rolling has become an instrumental part of fitness in 2018 and additional recovery techniques will continue to gain popularity as people focus on their overall fitness goals – not just getting buff. Recovery, along with sleep, are incredibly important in order to maintain metabolic efficiency and prevent injury. Recovery techniques including steam rooms, infrared saunas, cryotherapy, compression sessions and float tanks lauded by professional athletes will go mainstream. Don't be surprised if you start to see these recovery-focused boutiques in your local strip mall this New Year.
TRAINING YOUR BRAIN AS MUCH AS
YOUR BODY
Mindfulness while exercising will be a big part of fitness in 2019. The concept of mindfulness while working out is not new; yogis have been setting a personal intention during sessions for thousands of years. Today, in our world of constant communication and looming deadlines, the concept of being fully present in the current moment has taken hold in popularity. This year, with companies like Nike and Headspace partnering to create mindfulness-focused guided runs, this trend is sure to gain even more traction.
EMPLOYING CERTIFIED FITNESS
PROFESSIONALS
The growth of the fitness industry continues to skyrocket as people realize the importance of fitness on their personal health. The growth of the industry and a variety of choices by customers is prompting gyms to hire Certified Fitness Professionals. Hiring trained and certified experts raises the bar for the entire industry and allows for customers to receive better education and ultimately, better results.
Crunch is known for its innovative group fitness programming and will offer a wide range of classes every week, including BodyWeb with TRX®, Zumba®, Cardio Tai Box, Yoga Body Sculpt and Fat Burning Pilates. Members can also utilize its exclusive high intensity interval training program, the HIITZone.
Crunch is a gym that believes in making serious exercise fun by fusing fitness and entertainment and pioneering a philosophy of 'No Judgments.' Crunch serves a fitness community for all types of people, with all types of goals, exercising all different ways; working it out at the same place together. Today, we are renowned for creating one-of-a-kind group fitness classes and unique programming for our wildly diverse members. Headquartered in New York City, Crunch serves over 1,200,000 members with over 300 gyms worldwide in 25 states, Puerto Rico and 4 countries. Crunch is rapidly expanding across the U.S. and around the globe.
Experience Crunch Fitness at any of there following locations:
BEE RIDGE
3762 Bee Ridge Rd
Sarasota, FL 34233
(941) 923-4653
UNIVERSITY
8440 Lockwood Ridge Rd
Sarasota, FL 34243
(941) 355-1908
BRADENTON
4836 14th Street W
Bradenton, FL 34207
(941) 216-3854
LAKEWOOD RANCH
8475 Heritage Green Way
Bradenton, FL 34212
(941) 714-4810