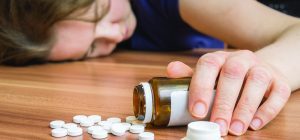 The CDC reports that nearly half of all opioid related deaths are due to the narcotic being prescribed for pain related circumstances such as lower back pain, nerve and joint disorders, arthritis and spinal injury.  *15,000 deaths are equivalent to 75 commercial airline passenger planes crashing in one year.  The number of casualties from prescription opioids in the United States is overwhelming!
Opioids fool the body by binding to the opioid receptors in the brain, spine and other areas of the body.  They don't treat the health condition; they only mask the pain by disrupting the signals to the brain.  Opioids are one of the most highly addictive drugs available.  And unfortunately, many physicians are fueling the epidemic by prescribing them to innocent patients that can quickly become the over-dosed statistic.
The physicians at Platinum Healthcare are leaders in treating peripheral neuropathy, spine pain, bone and joint pain disorders naturally with a NO TOLERANCE level for narcotics (opioids).  Their entire practice is 100% drug-free, and their approach is highly sought after with over a 90% proven outcome rating that their patients have experienced.  Helping people from all over the U.S. and Canada, Platinum Healthcare's primary focus is reducing pain and treating the cause through a progressive, individualized plan that only a select group of medical physicians has been trained to use.
Throughout the past 15 plus years, Platinum Healthcare's protocols and proven systems work together synergistically to make the complete overhaul for patients suffering from pain related to their neck, back, joints and neuropathy (nerves).  Because they use an integrated approach through a combination of multiple cutting-edge procedures, they have gained the reputation of being the elite choice not only from their patients but also from referring practitioners.  In fact, voted by his peers, Platinum's Medical Director, Dr. Derrell Billington, a well-known physician has received the 2016 "Physician of the Year "award from The Florida Osteopathic Medical Association.
Platinum's Non-Surgical and Non-Pain Med Approach to Back, Neck, Joint, and Neuropathy Pain
• NON-NARCOTIC
• Non-Invasive
• Painless
• Highly effective
• Promotes rapid healing
• Non-Surgical
• Restoration to the Joint, Tissue, and Nerve
Orthopedic and general surgeons often claim that invasive surgery is the "Gold Standard" in repairing your painful disorder.  Excessive surgery has unfortunately become an epidemic of its own.  Failed surgery rates for joint replacements and spine are higher than most people can imagine.  At Platinum Healthcare it is not uncommon for them to see patients that have undergone 2 or 3 unsuccessful, failed surgeries.
What's the alternative?
Platinum Healthcare focuses on the source of your pain and implements several protocols and therapies that work together to get you the best results without addictive drugs and without risky surgery.
Platinum's Proven Success with:
• Neck Pain
• Shoulder & Arm Pain
• Foot & Ankle Pain
• Low Back Pain
• Hip & Leg Pain
• Sciatica
• Numbness & Tingling of the Hands & Feet
• Spinal Stenosis
• Knee Arthritis Pain
• Auto & Sports Injuries
• Neuropathy
Treating the underlying cause of these conditions is essential, and it is also what separates Platinum Healthcare from the pack.  Having a comprehensive evaluation to define your level of damage, the source of the pain, and the ancillary indications, are all critical steps to your successful outcome.
At Platinum Healthcare in Sarasota, their physical medicine team of professionals can locate the source of your pain/condition, ensuring that they provide you with the best method of treatment. By identifying the severity of your symptoms, they will determine and streamline your most effective medical care and protocol without any drugs or surgery.
Let the leaders at Platinum Healthcare accurately detect and treat your pain. Call their office today at 941-927-1123 to schedule a FREE screening with a skilled professional to see if your case can be accepted. You will be glad you did!
*Estimating 200 passengers on board each of the 75 planes is equivalent to 15,000 people killed per year.